Zoom is the leader in video communications. It's an easy, reliable cloud platform for video conferencing and chat makes online meetings convenient and accessible. MasterStudy now integrates with Zoom and here we explain how to use it.
To use Zoom and implement the service to your work you need to enable Zoom Conference Addon. For this, from your dashboard panel go to STM LMS > Addons.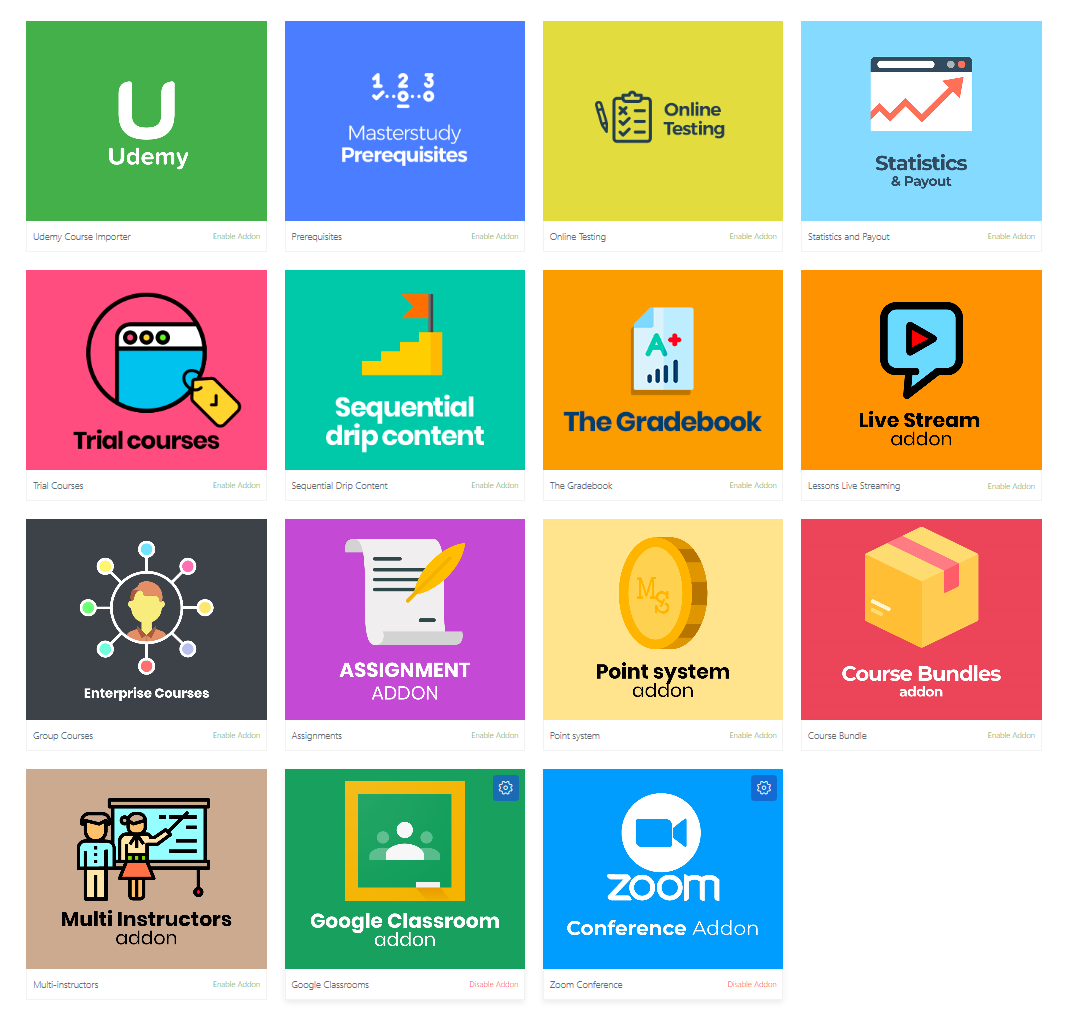 Find there Zoom Conference Addon and enable it. Click on the Settings icon in the top right corner to open the new page, where you will be offered to Install Zoom Video Conferencing plugin.
Click on the Install Plugin button.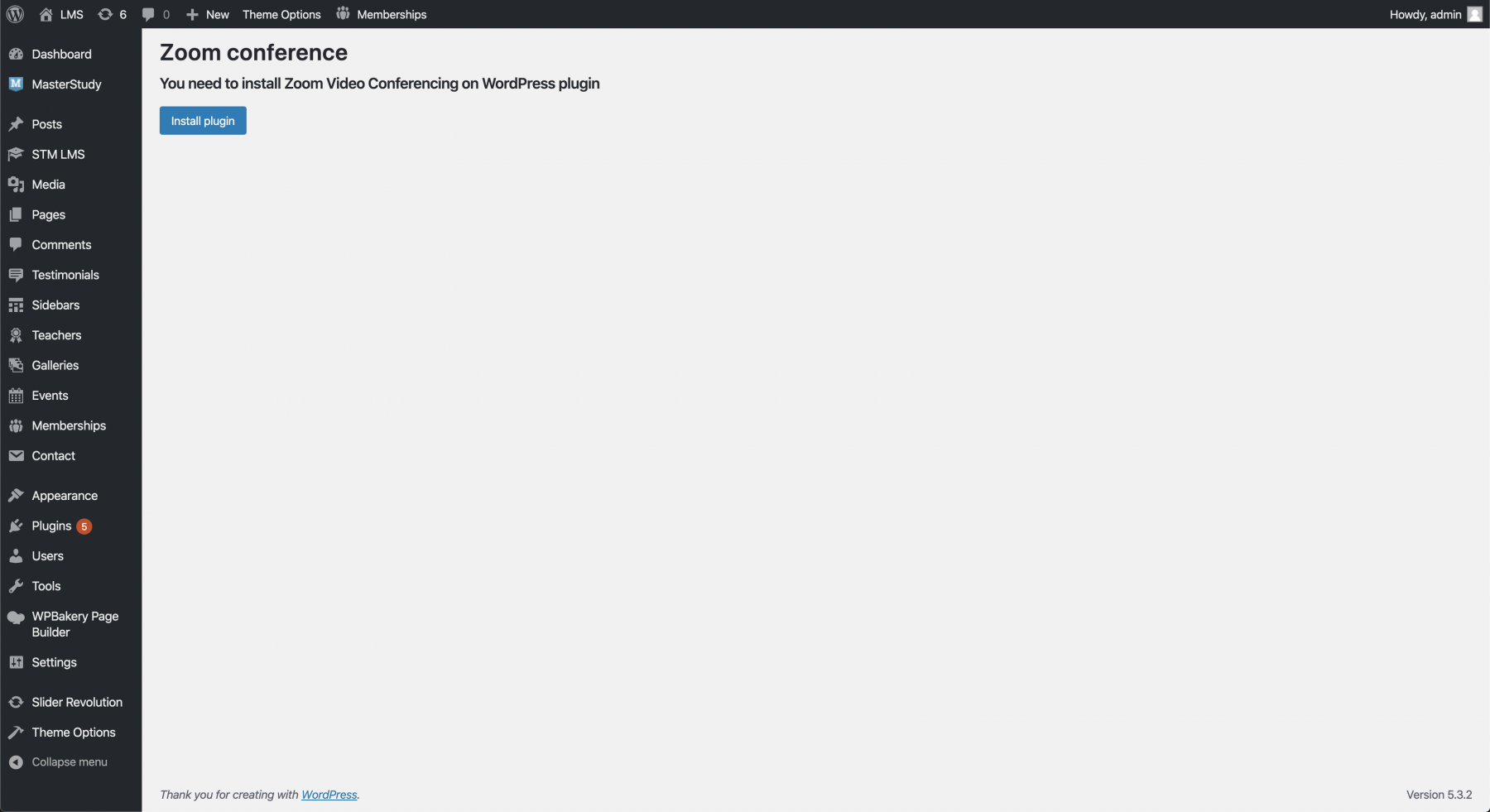 Once the plugin is installed you can open the Zoom settings. On your dashboard panel, you now can find the Zoom Meetings menu. Click on the Settings option to set it up (Zoom Meetings > Settings).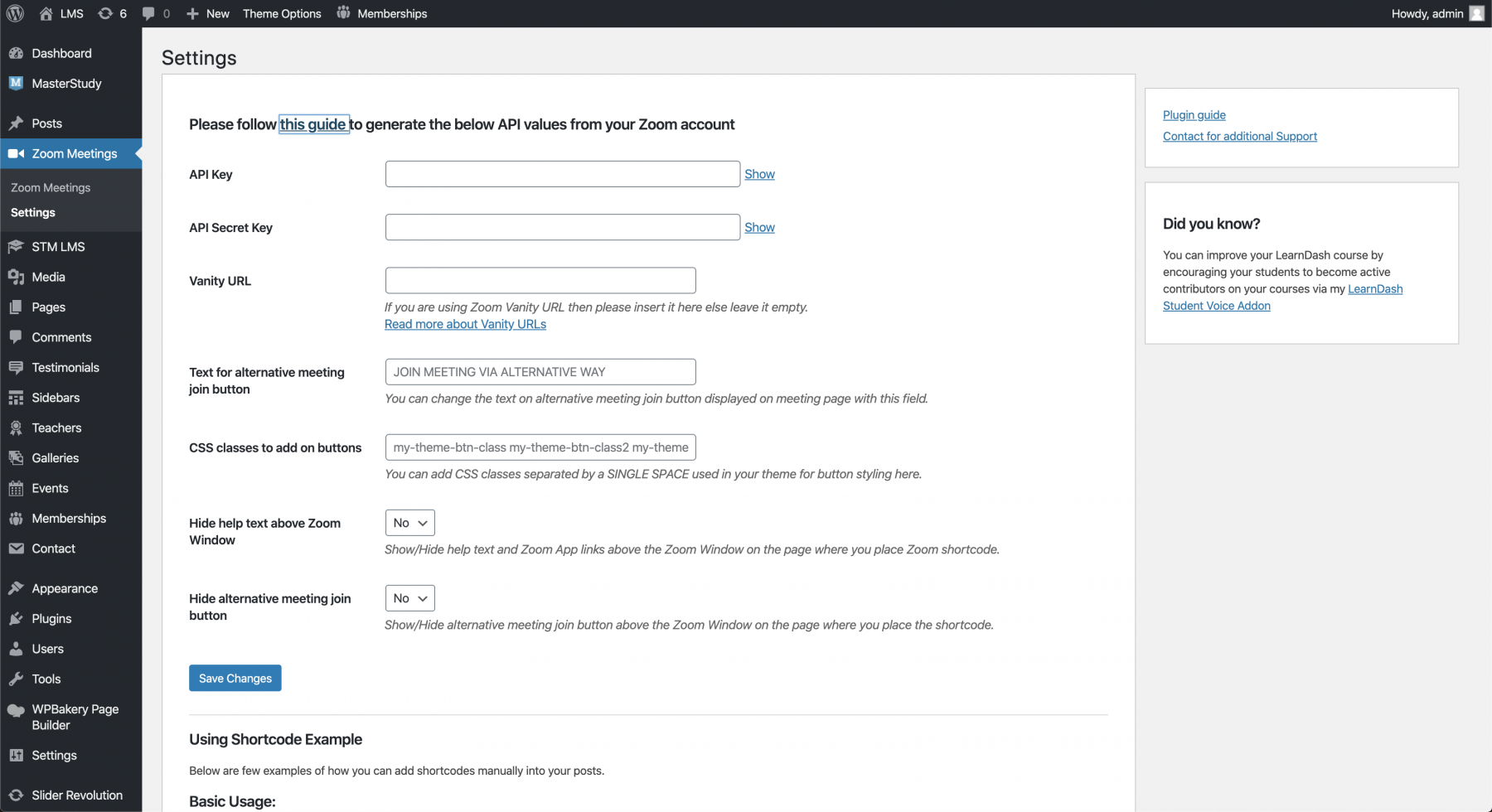 You will be required to enter some credentials: API Key and API Secret Key. You can collect these credentials on Zoom App Marketplace. Follow this link: https://marketplace.zoom.us/ to obtain your API Key/Secret.
You can follow the link provided on the page and follow the guide on how to create a JWT App for your website: https://marketplace.zoom.us/docs/guides/getting-started/app-types/create-jwt-app
Go to the Zoom App Marketplace to register your App and generate credentials.

Click on the Develop dropdown menu and select Build App option there.

Choose the type for your app and enter all the required information.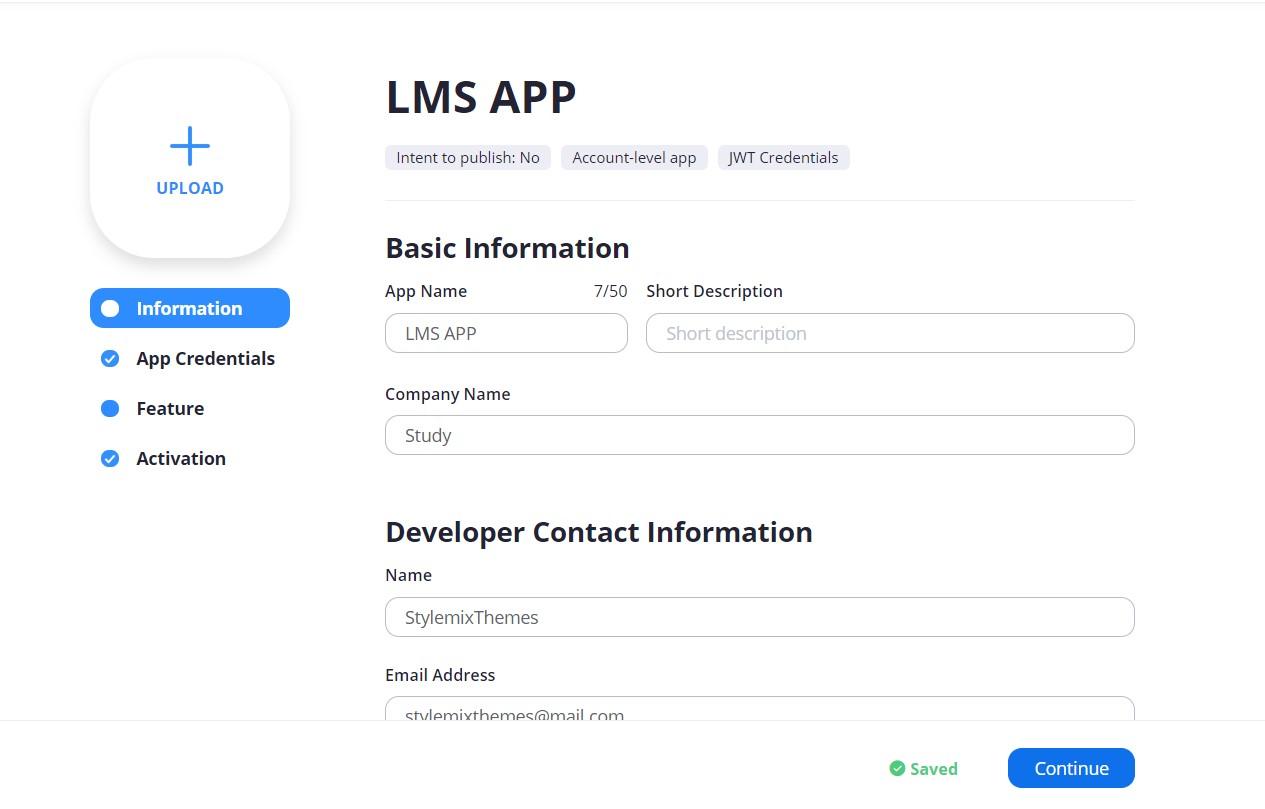 Then copy App Credentials and paste them on the Settings page on your admin panel.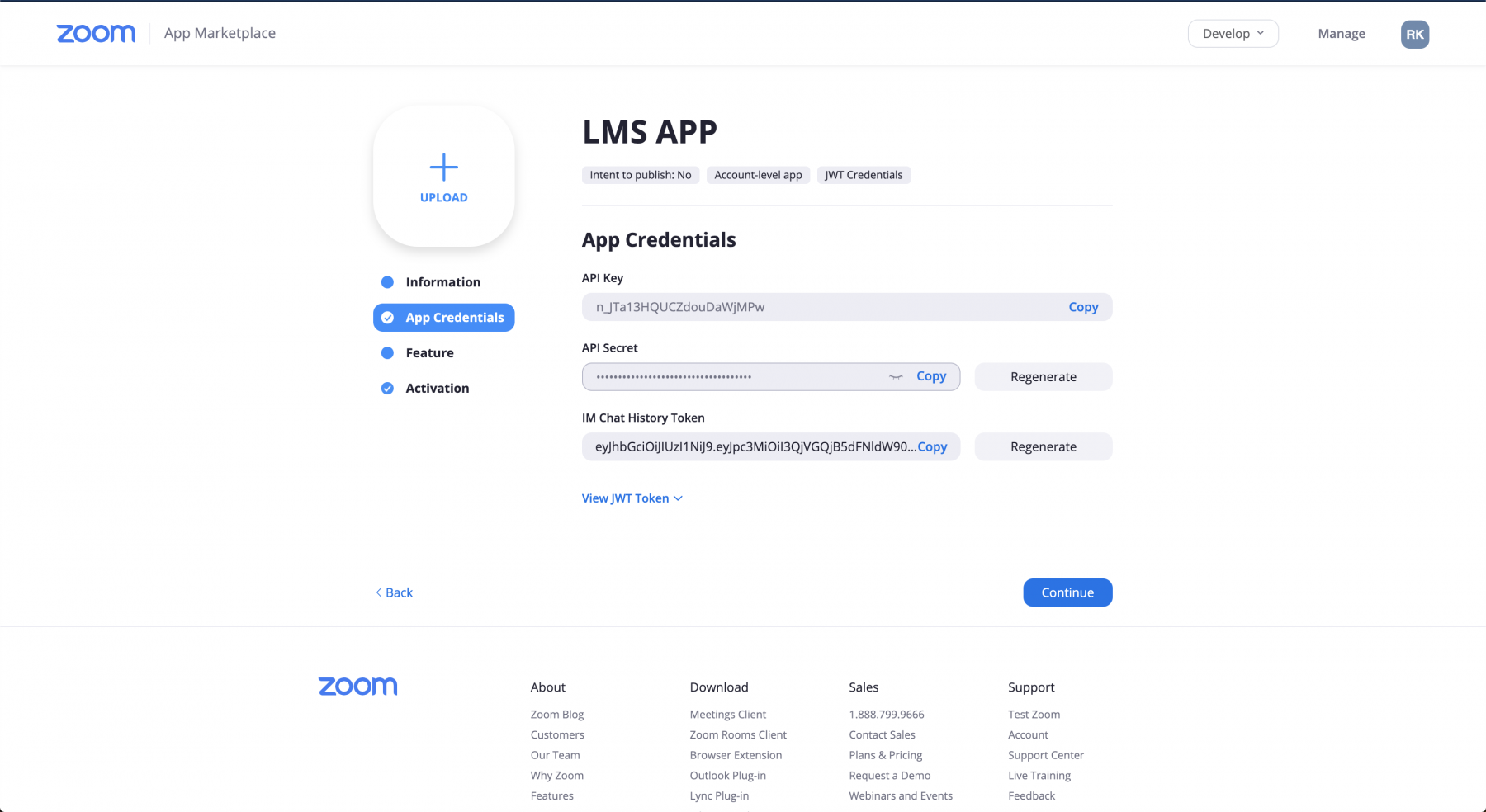 Now, the Zoom service is connected with your website and you can test it.
Please note the free version of Zoom allows only admin of the website to add meetings.
If you have instructors registered on your site, you need to buy one of the meetings plans on Zoom in order to add instructors as Hosts, so they could use Zoom meetings and schedule sessions.
The service is provided by Zoom only, it is not free, the price varies depending on the chosen plans. Please check the options available here: https://zoom.us/pricing
How to use Zoom Meetings?
This integration works as a lesson type. When you build your course, go to the Curriculum section and add new lesson.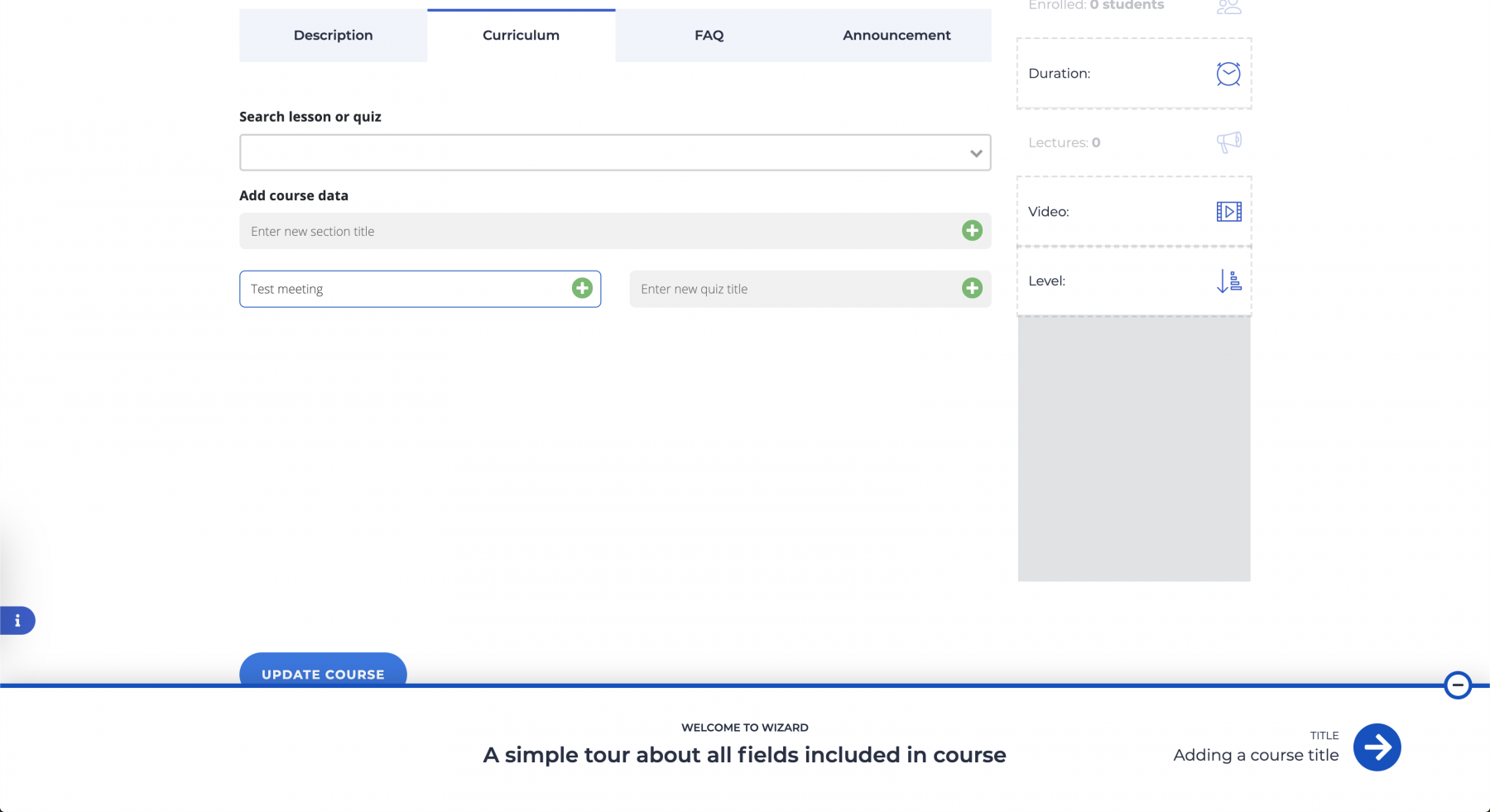 Open its settings and in the lesson type select Zoom Conference.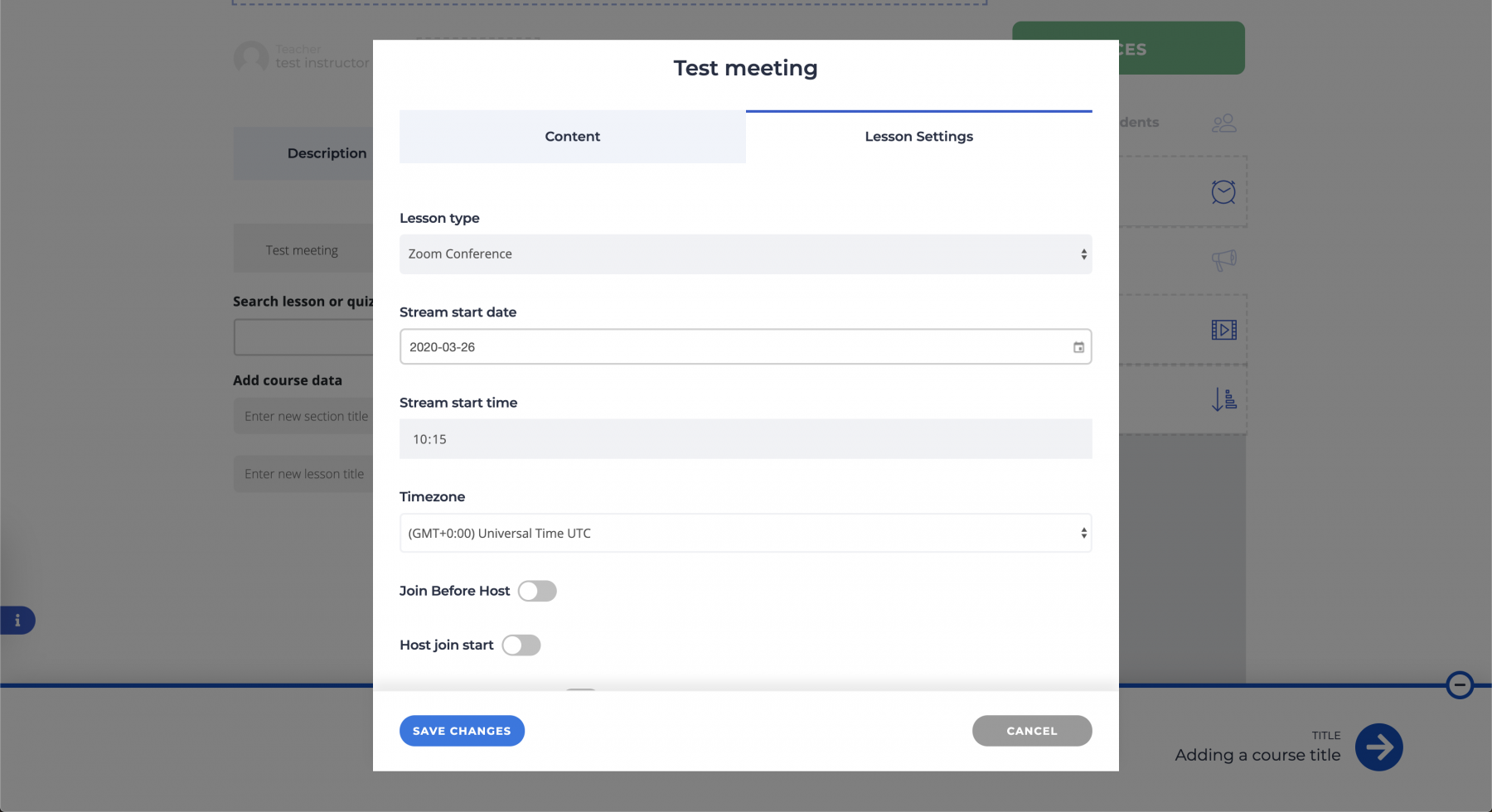 Specify the start date and time, allow users to join before you and enable Host join start function.
Now you ready to use Zoom integration, create virtual classrooms, make meetings accessible from any device to your students.
To make sure the users can select a lesson type Zoom Conference, go to Users > Select user > Edit User. Scroll down to the Zoom Settings, find there Meeting Host section and Select Host from the dropdown menu.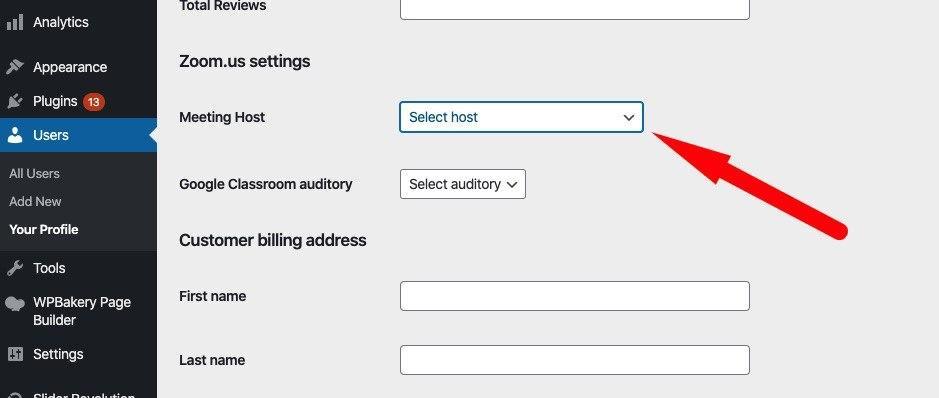 Let's have a look at the live meetings page. The image below showcases the meeting page of Zoom App for MacOS.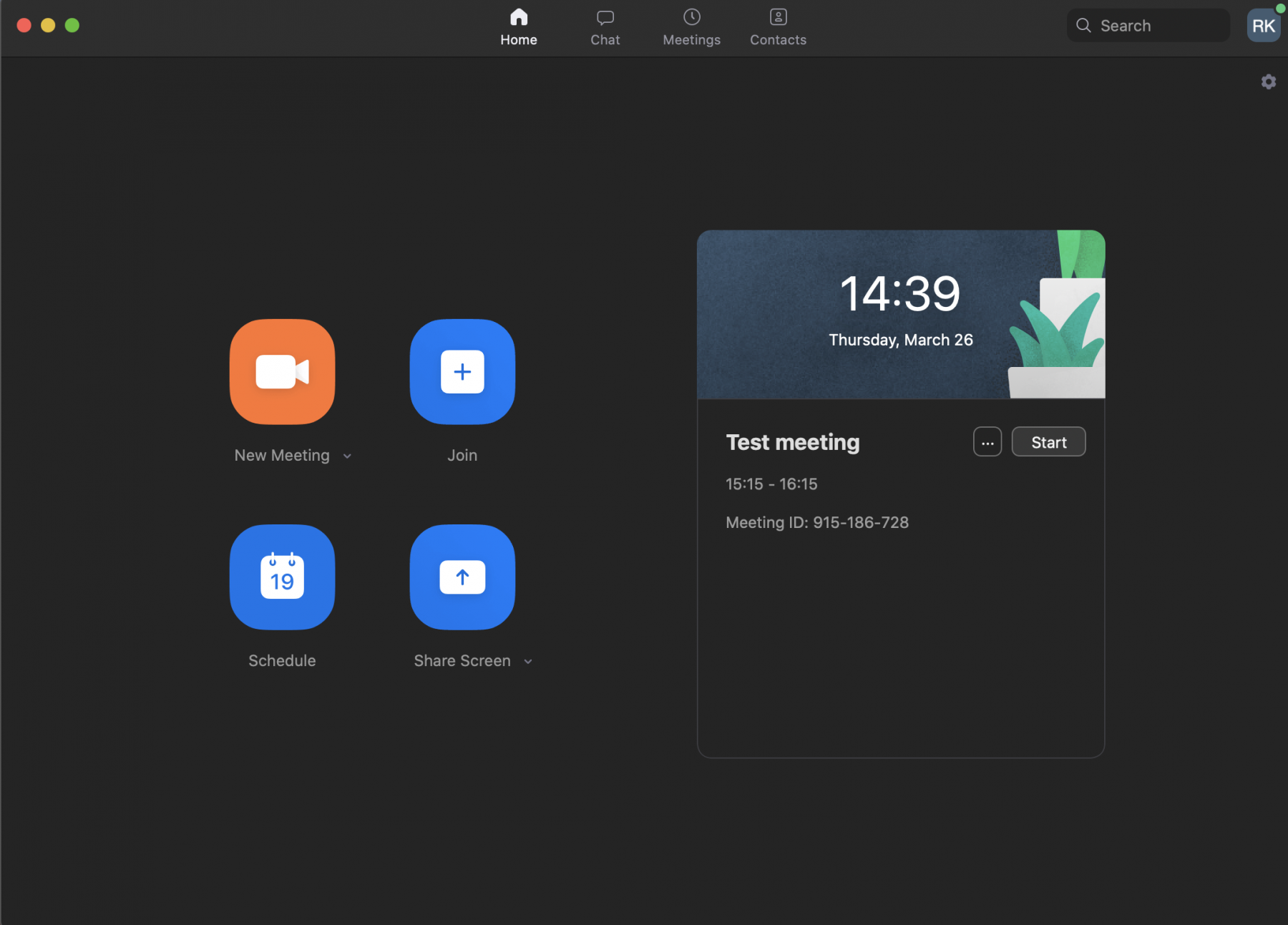 Please note there are different Zoom Clients/Extensions/Apps for different systems and platforms. You can download the needed client version browser extension here: https://zoom.us/download
This is how it should look from the student's perspective.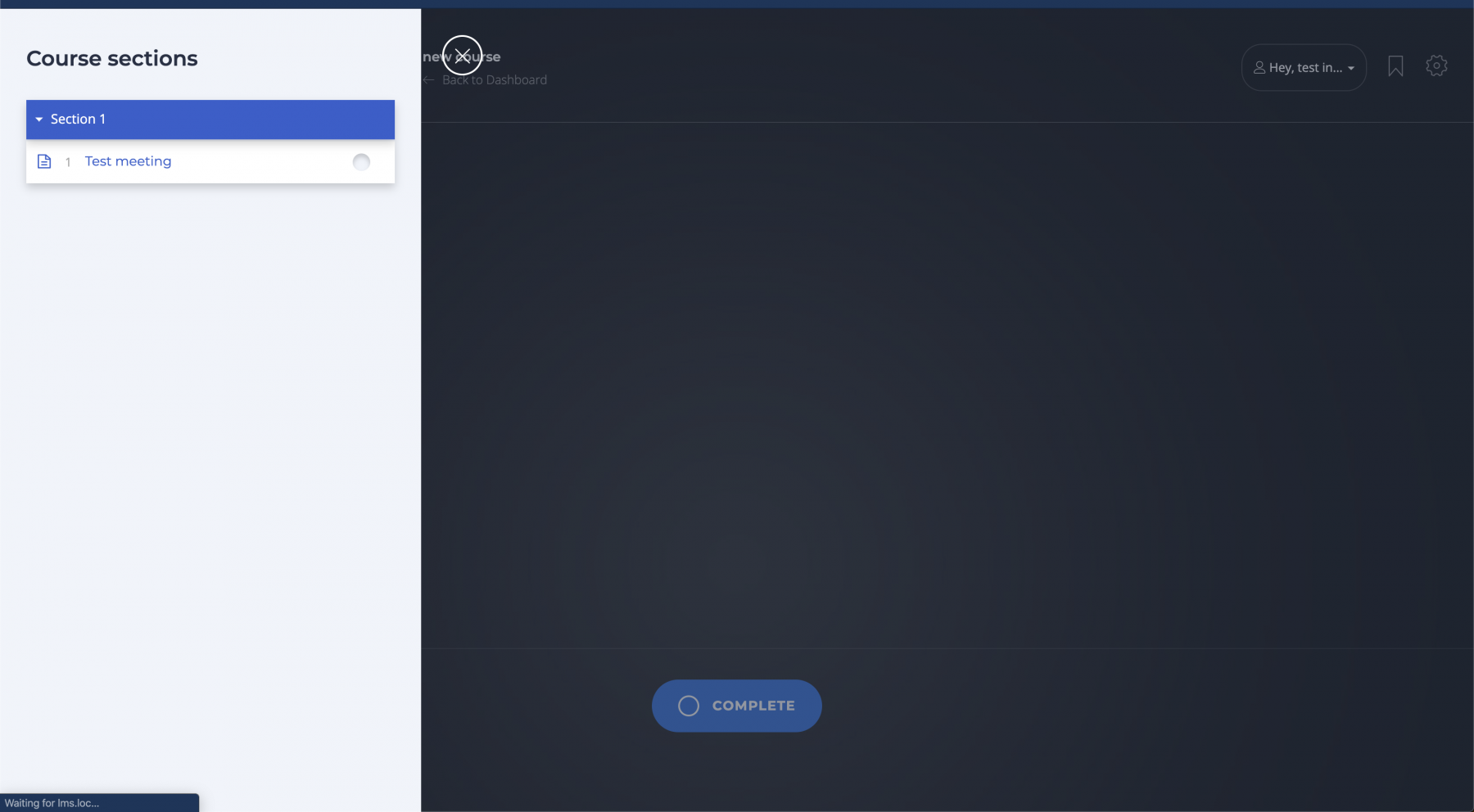 During the session, you can not enable screen viewing mode.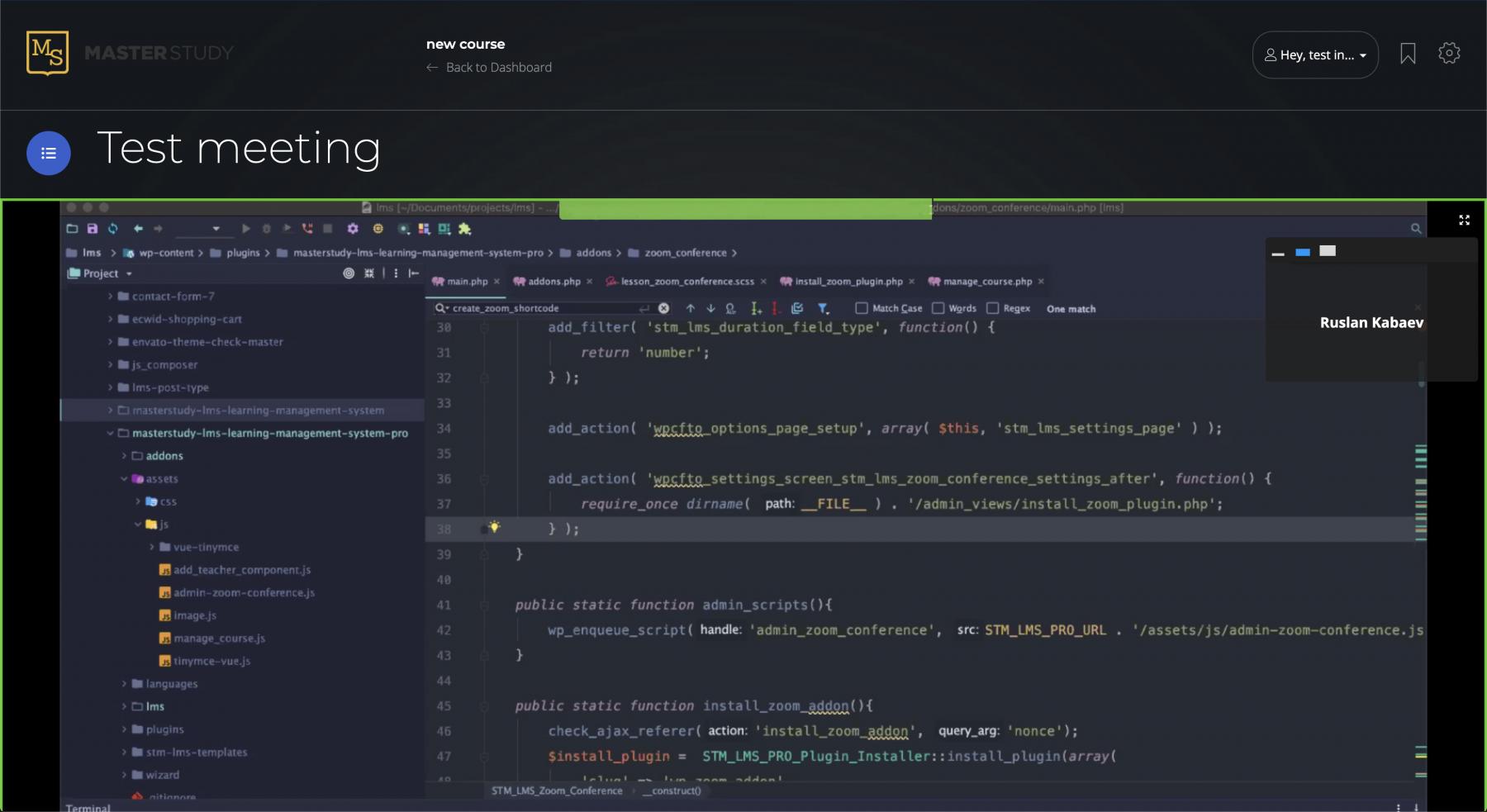 When the meeting is over you will see the overall time spent on the video session and will be able to complete it.