Savior - Tutorial about how to set up Pages and Post Types' content.
Setting up Content
All pages can be created as simple content pages or built by means of Visual Composer page builder. You will need to first set up the page and then add and set up content blocks. Just add a row and add the modules to row from the Visual Composer dashboard.
Besides a VC Page Builder and standard WordPress Options like Comments box – we now have Page Options on every page.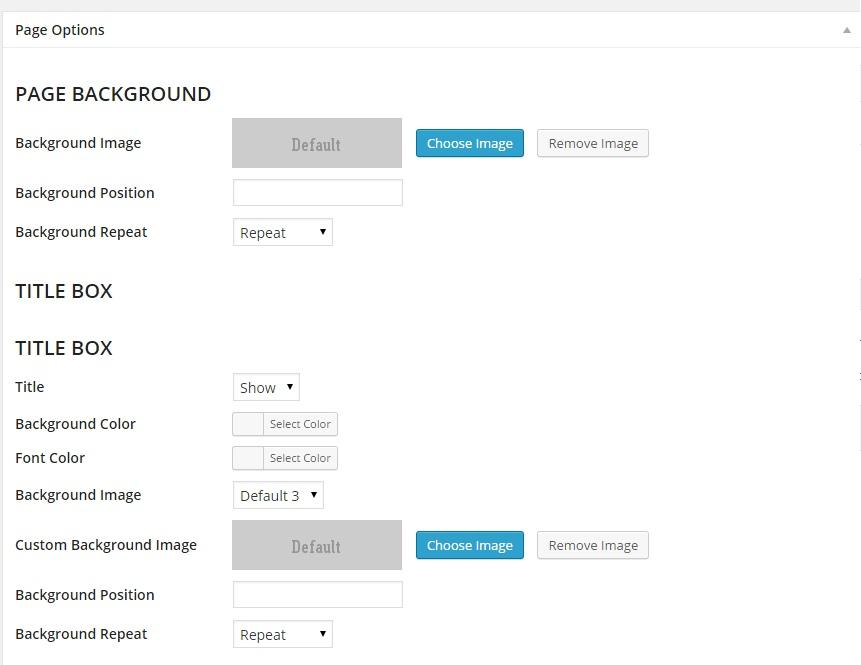 You can choose an image or pattern for every Page background. You upload an image set position as 0 usually and choose whether repeat it if it is a pattern.
For title box it is the are under navigation bar where you can upload an image or pattern again separately, or just set up the color. We have some default option to choose from.
Events page
Events page is a template that show the listing of the events created under the Events tab in the Wordpress Backend. Events are custom post types created for the convenience in this theme.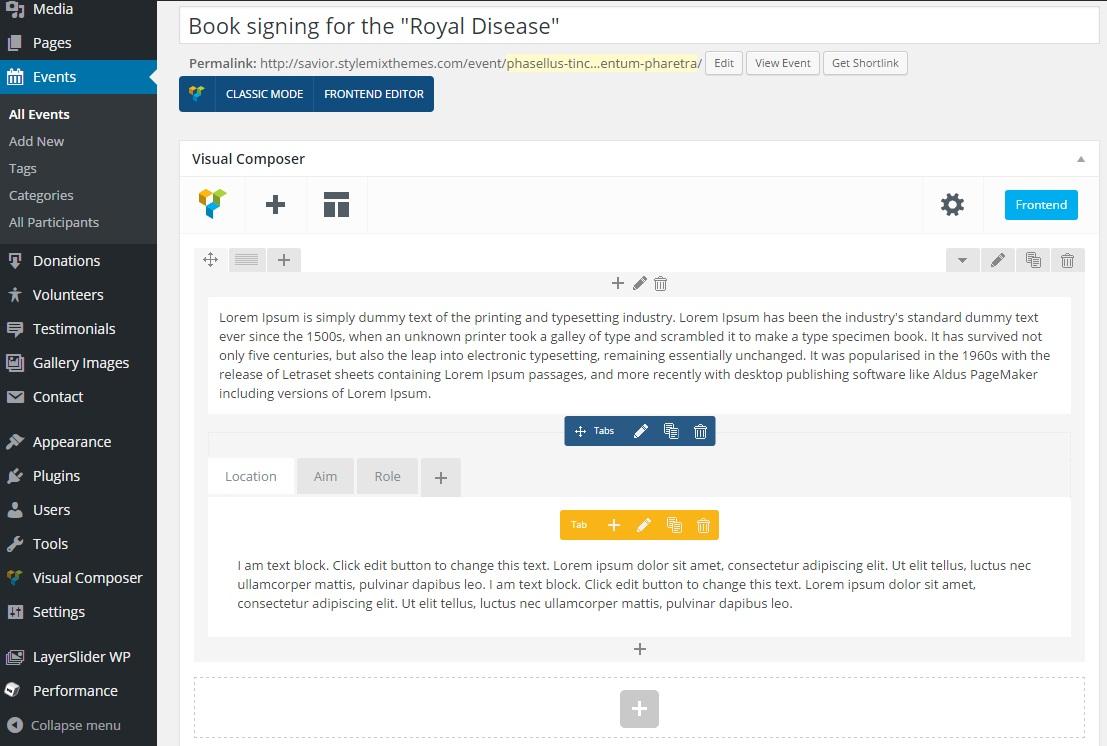 The special Event Post has the following fields (as per image above):
Start and End dates of the event;
The event location title that would appear in event box;
You can embed a map for the event location by showing its latitude and longitude;
Blog page
The Blog page is a usual blog, formed from the posts which belong to categories created by you, which have tags and featured images that show in the post listings on the blog page. The blog page can have the sidebar on the left, right or no sidebar, and the contents of the sidebar, as described above, are set under the Appearance > Widgets.
We choose position of the sidebar under the following Sidebar options which you find in the very bottom of the Page
We cannot edit the blog page we can only add posts and categories for it to display.
Blogs can be posted by someone who has the access to the backend of the site with admin or author role. Anyway that person will be able to log into the WordPress panel and have a user profile.
Please note that you also need to compose the blog post template via Templates and add the layout via Visual Composer Template icon.

And the following popup window where the saved templates will be under My Templates.

Contacts Page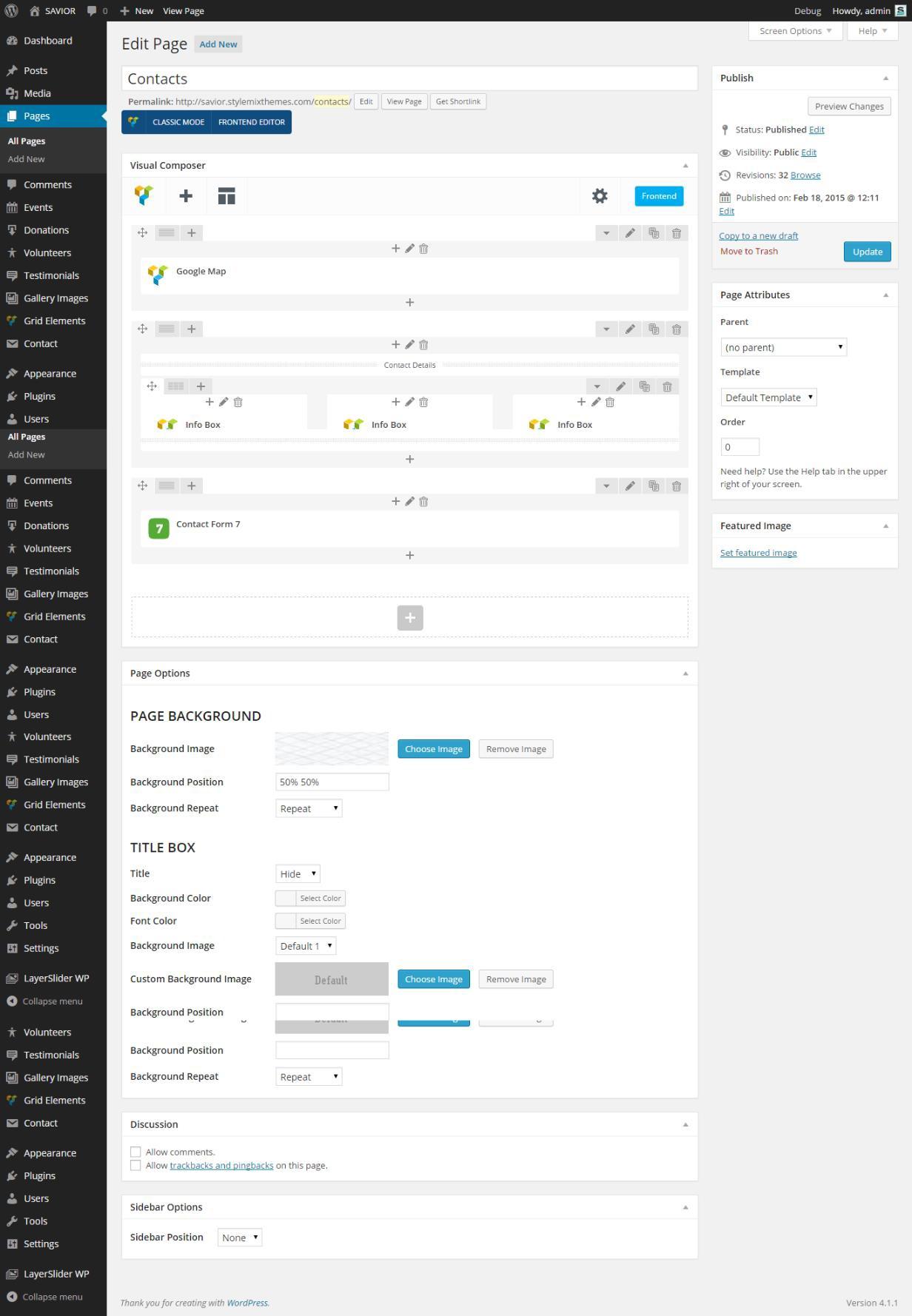 The contact us page is built via Contact 7 plugin. Contact page is a usual page which is setup via Visual Composer.
Map with location can be added by means of Visual Composer as well. You just set up Latitude and Longitude.
Gallery
Galleries page is created as another custom post type – in admin Backend you can see it as Gallery Images tab on the left
So basically, you create an individual post with a title and image. And each of these images build up a gallery. Very straightforward.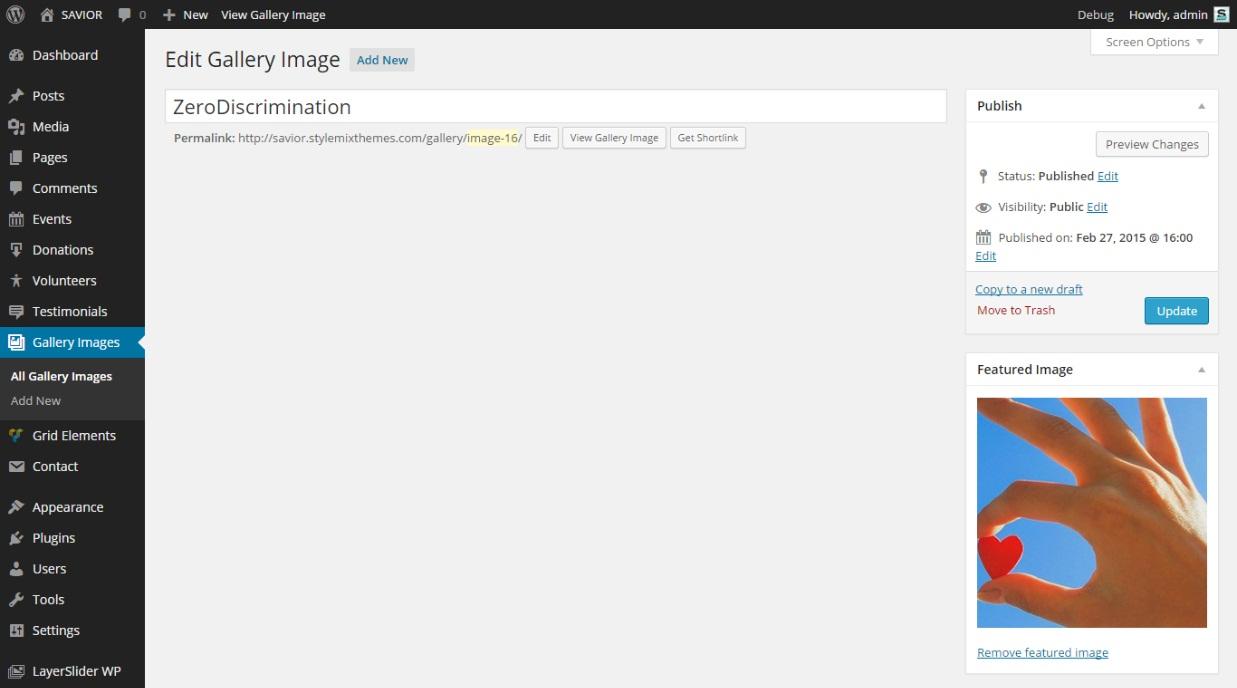 The latest added 8 images will build up the Homepage Gallery block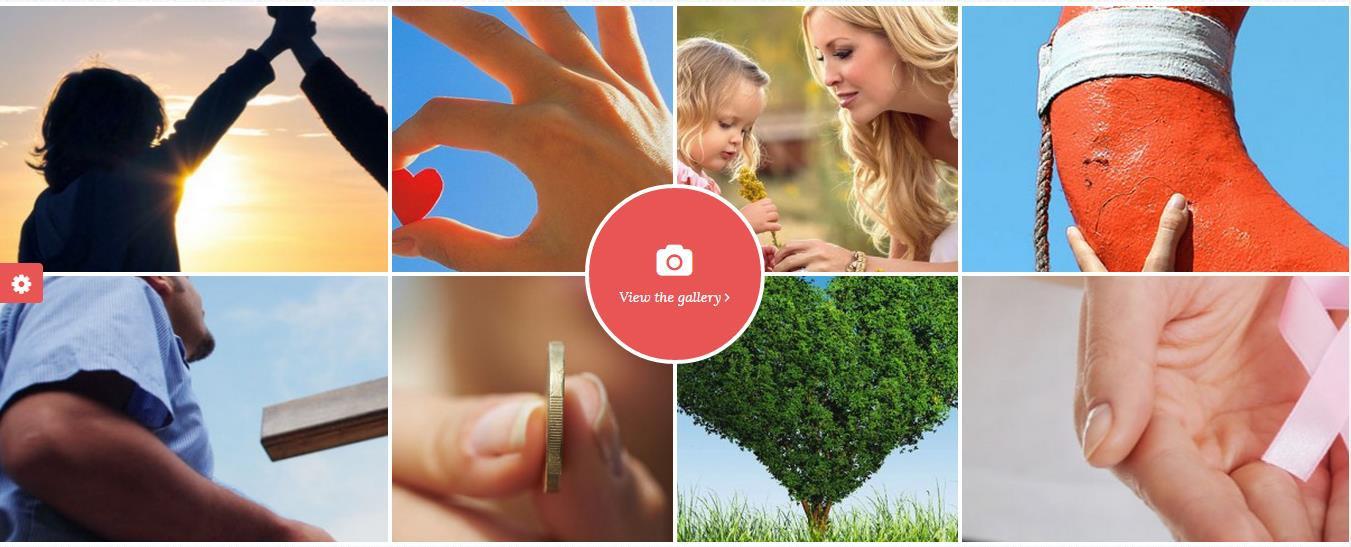 Content import in one click
Don't know where to start on building up your site? We have created an option for you to recreate our theme demo site in just one click. You should just go to Theme Options - > Demo Importer and click the import button.

Donations
You need to identifying Your IPN Listener to PayPal https://developer.paypal.com/docs/classic/ipn/integration-guide/IPNSetup/#id089EG030E5Z:

URL should be: http://[your_domain]/?stm_check_donation_ipn=1
Donations are the custom post type. Actually what you need to fill out is pretty simple – title, description, excerpt, amount needed and currency and the rest will work based on user clicks on Donate button. The fields showing the donation digits are editable in case some of your donors come off-site.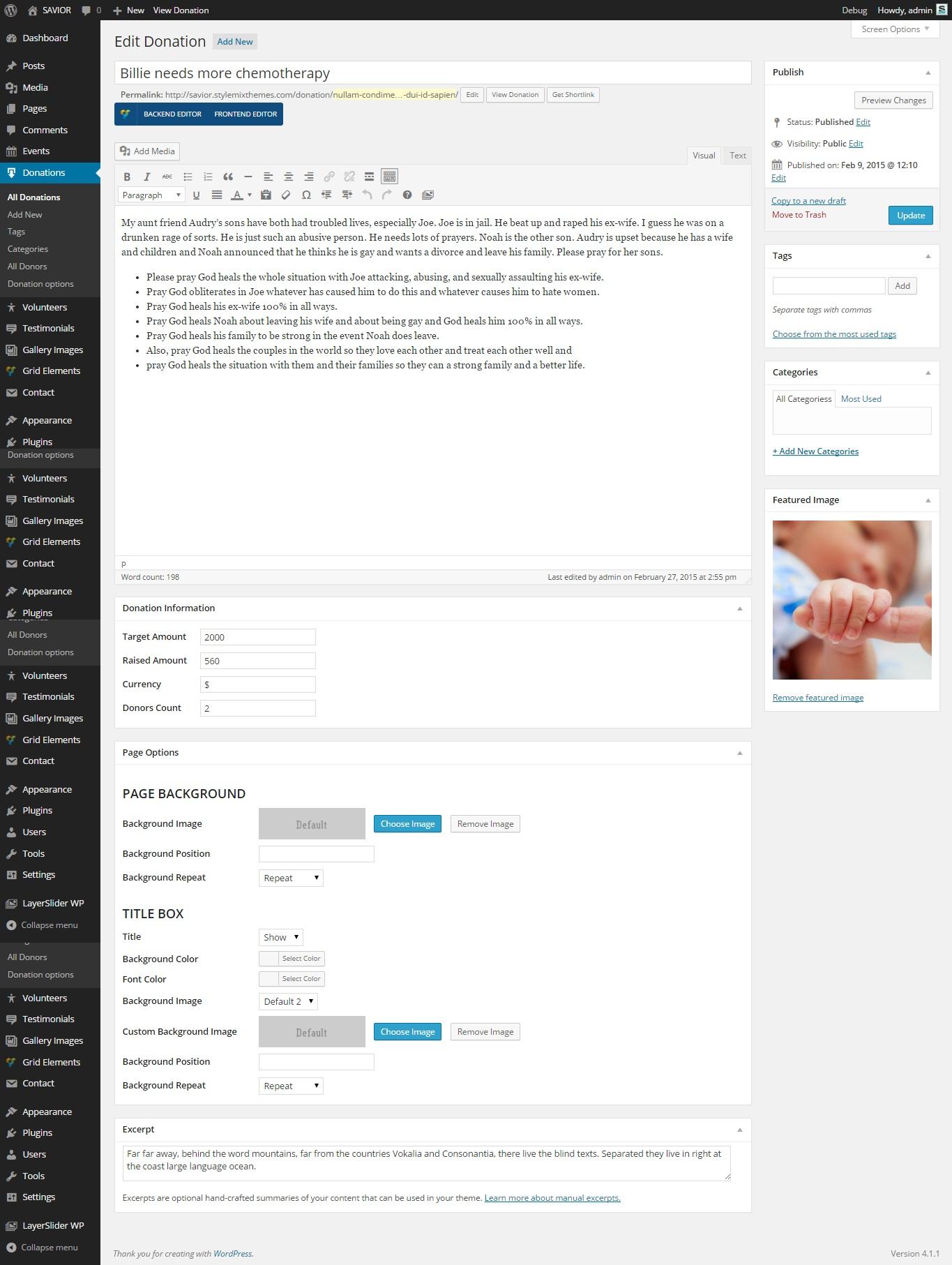 To set up your paypal account details and text which will be sent in an email to the donors after they make a donation you should go to Donations – Donation Options. You can even set up specific email text for yourself to get notified of a new donation on a case or from general donation button in the header.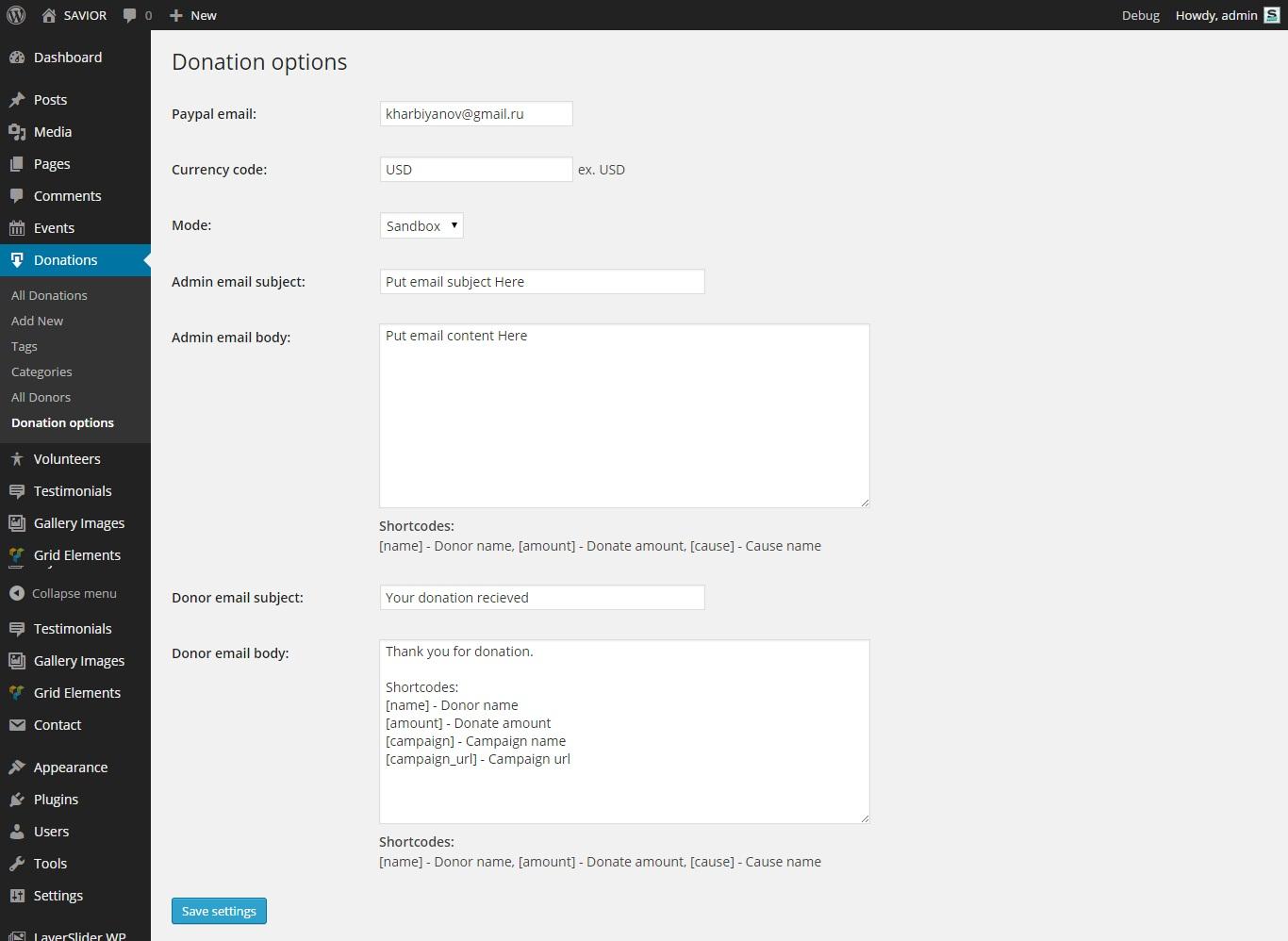 There is no donor info on the site, but as a moderator you can view that in the admin panel. There is all donors tab, when someone donates – you'll see them unlike us here on a screenshot

Volunteers
These are custom post types that you can actually create yourself as posts, but which are also created as drafts when someone fills out Wanna Volunteer form on your site.
Testimonials
In order that you could create testimonials in one place and then use all over the site, just inserting a VC element, we have created custom posts.

Each testimonial is a simple post.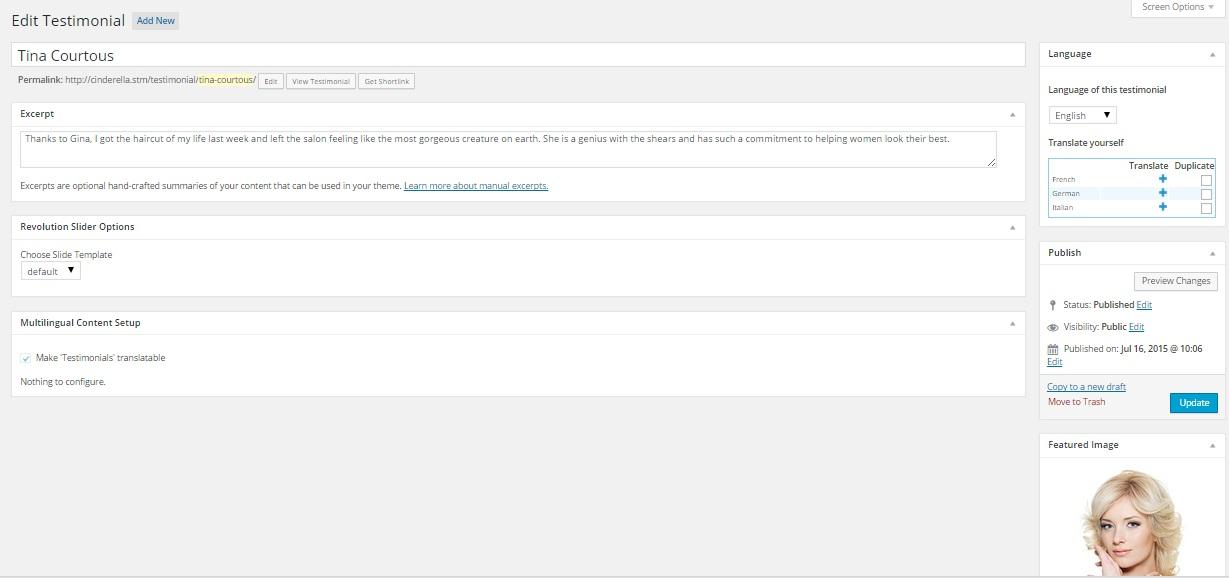 Menus
There are two navigations on the site – Header menu and Footer menu, so you can adjust them under Appearance -> Menus
This is standard Wordpress functionality, you can choose from the pages, post categories, or custom links.