Theme Customer options.
Theme Customization
WordPress Customize allows you to setup the general styling of the website visually. In WordPress menu go to Appearance > Customize. Here you can setup most important options of your theme.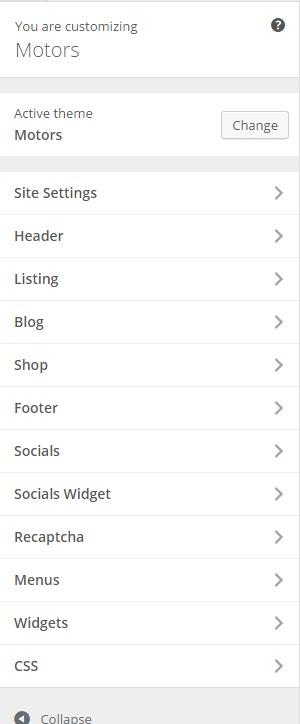 Site Settings:
Static Front Page: You can select default Front and Blog pages here.
Logo & Title: You can setup basic site options like: Site title, Tagline, Logo & its dimensions and Favicon.
Style: There are Color Skins and default Layout options. Here you can select one of one of the basic color schemas or set your custom colors, enable/disable Boxed version and show/hide Frontend Customizer.
Typography: Set up the fonts out of free google fonts. Besides this you can setup font weight, font size and line height also.
One Click update: You need add Your Envato Username and Envato API Key (Theme Purchase code https://help.market.envato.com/hc/en-us/articles/202822600-Where-Is-My-Purchase-Code- ) in order to auto update your theme.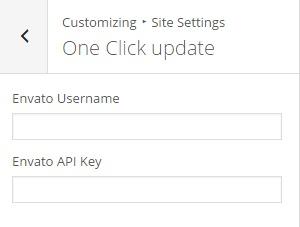 Header:
Main settings: You can enable/disable Header background & Sticky menu and your company contact information.
Top Bar: Here you can enable/disable Top Bar & WPML Switcher and add your company office addresses, contact information, working hours and Top Bar background color.
Header Socials: You can enable/disable Header Social buttons here.
Listing:
Inventory settings: You can select Listing archive page, Filter Position, add/change Title background, Listing archive page Title and enter your Price currency. Besides this here you can enable/disable main Car features for archive page.
Single Car Settings: Here you can enable/disable main sections/features of Cars for a Car detail page.
Compare: It's possible to select Compare page here.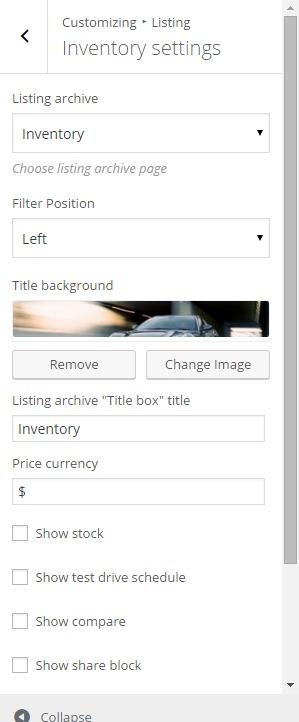 Blog: Choose blog page layout, sidebar and its position. Also you can enable/disable excerpts.
Shop: You can select sidebar and its position for your Shop page here.
Footer:
Main settings: Here you can change the footer background color, the copyright text and split the footer into widgets. Besides this you can enable/disable Copyright Socials.
Additional Scripts: You can put your additional scripts like analytics, counter etc.
Socials: You can add your company social URLs here.
Socials Widget: Here is possible to choose socials for Socials Widget.
Recaptcha: Here you can enter your Recaptcha API and enable it. You can read more about this API here - https://developers.google.com/recaptcha/intro.
Menus: You can add/edit menus here
Widgets: You can set up the widgets into the precreated areas. You can do the same later Appearance > Widgets.
Custom CSS: Here you can add your custom styles.
Footer area setup
The footer is the same on all pages. You can see whole options via Appearance -> Customize -> Footer -> Main settings.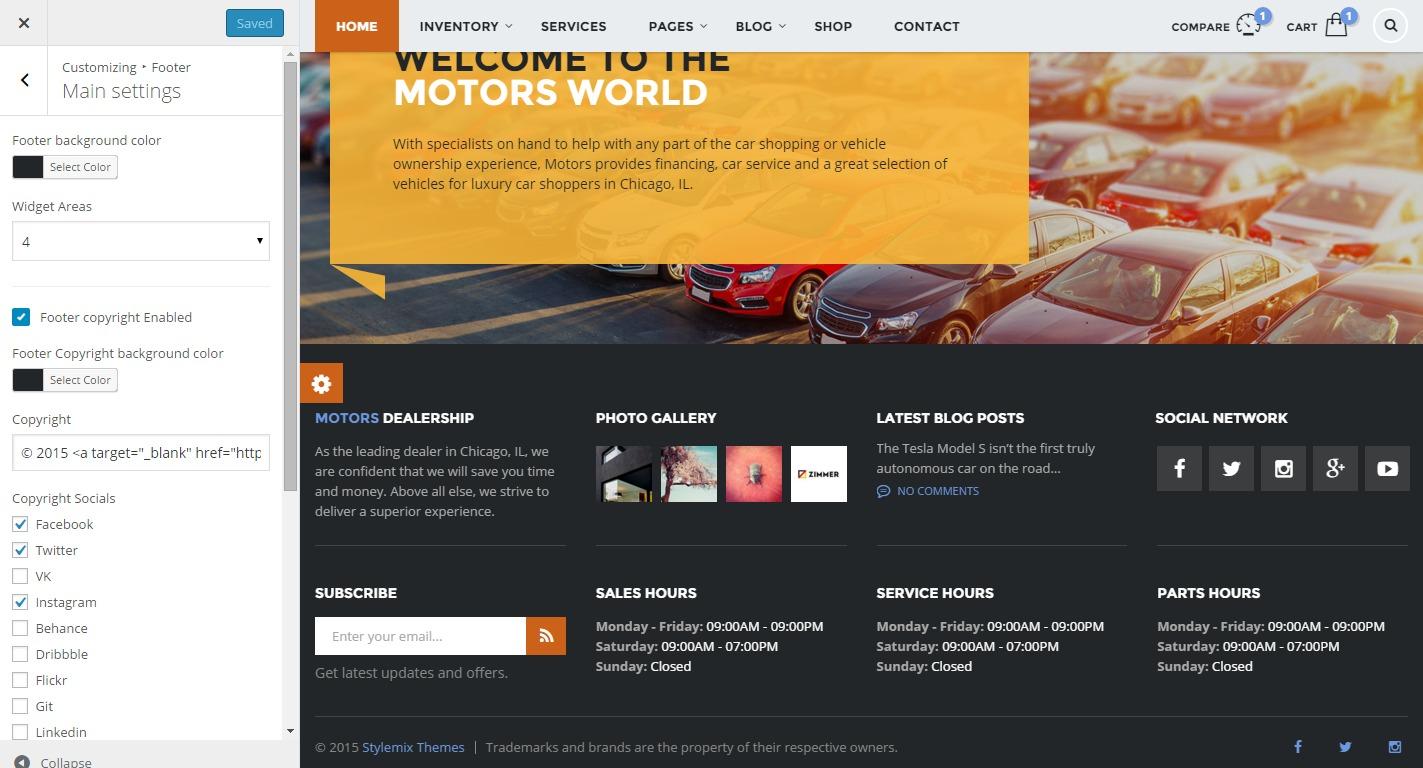 Here you can set up:
Footer logo and its dimensions;
Count of additional Widget Areas;
Footer Text;
Copyright;
Besides this you can add your custom scripts through Appearance -> Customize -> Footer -> Additional Scripts.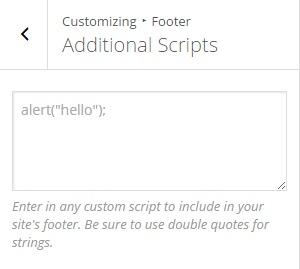 Also you can set other areas up on the Widgets page (Appearance > Widgets) and choose from the suggested widgets. Please see the attached screenshot.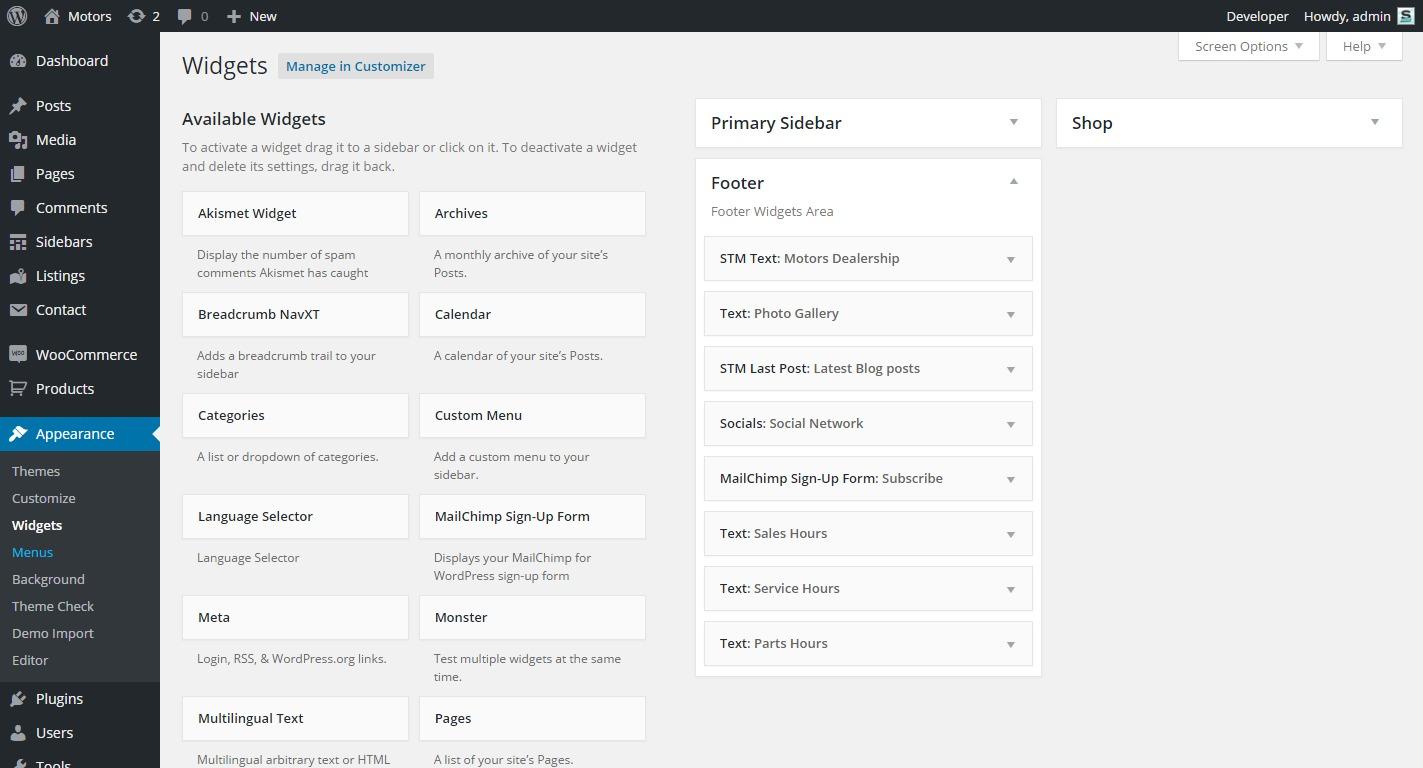 PS: Please note the Demo Content doesn't contain these widgets. So they need to be added manually.
How to set up the sidebar
In this theme we paid special attention to Sidebars for your biggest convenience and on multiple previous requests.
We have two types of sidebar: right sidebar and left sidebar, which can be selected for both of archive and single posts/pages.
In addition to that, you can add/create a new sidebar with VC Widgets/Elements, in this case you will need to go here:

Edit or create a new sidebar, and add any sections you need by means of Visual Composer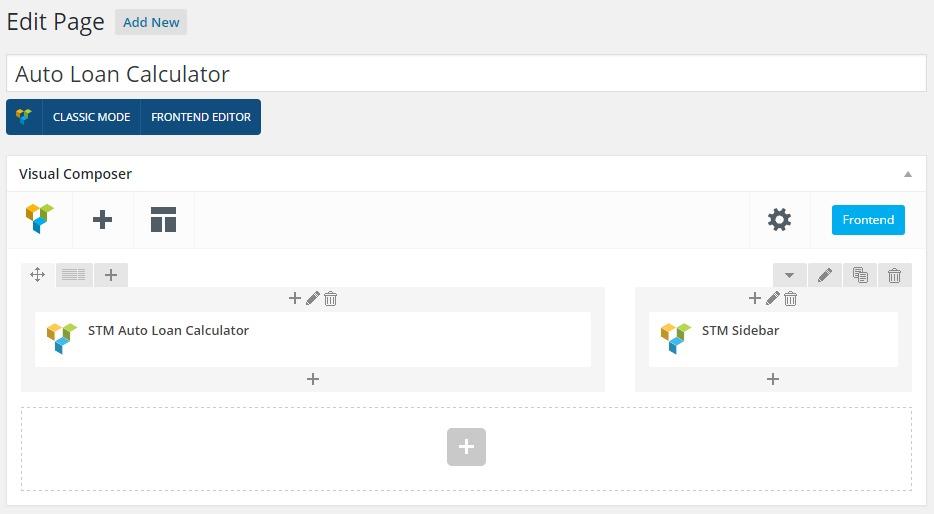 For single pages/posts you can add sidebar via Widgetised Sidebar or STM Sidebar VC element
Adding Images to Revolution slider
You will need to upload various images to the Layer slider. You can add items from Revolution Slider plugin in the WordPress backend. When you go there first you need to create the new Slider, and add new slides.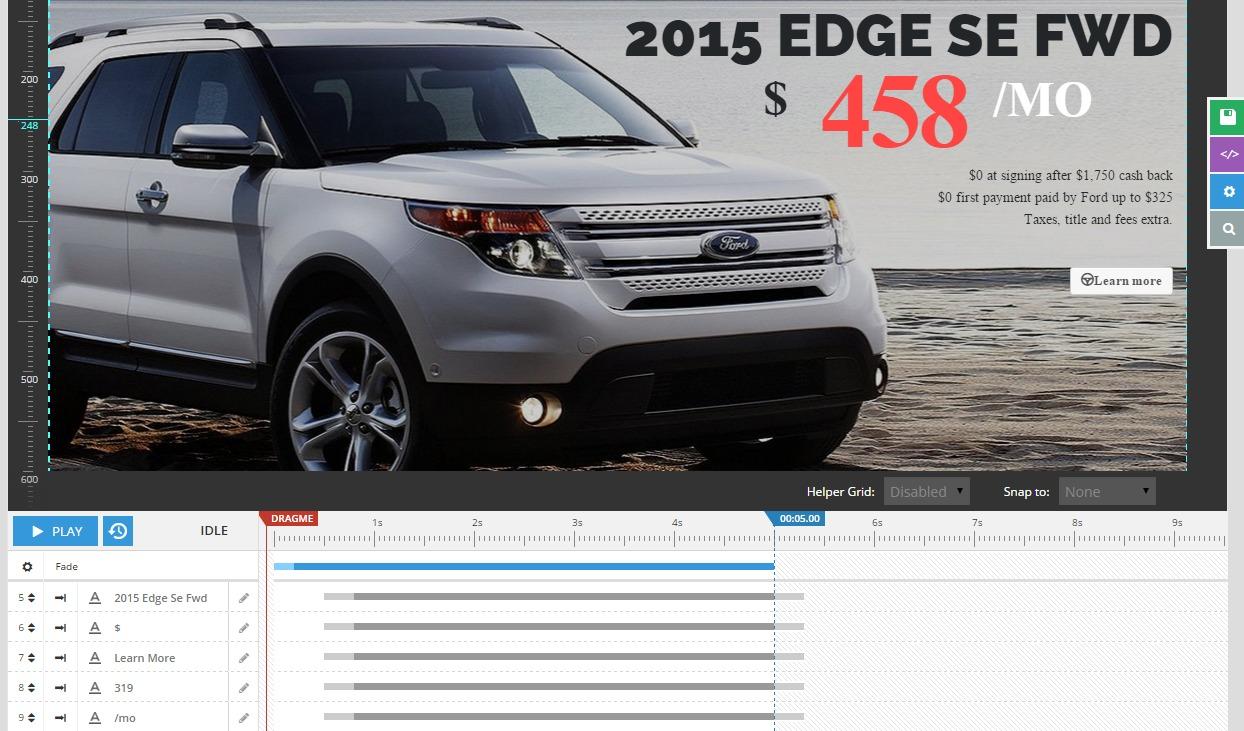 More detailed manual you can find here - http://www.themepunch.com/revslider-doc/slider-revolution-documentation/.
Menus
There are two navigations on the site – Header menu and Footer menu, so you can adjust them under Appearance -> Menus
This is standard Wordpress functionality, you can choose from the pages, post categories, or custom links.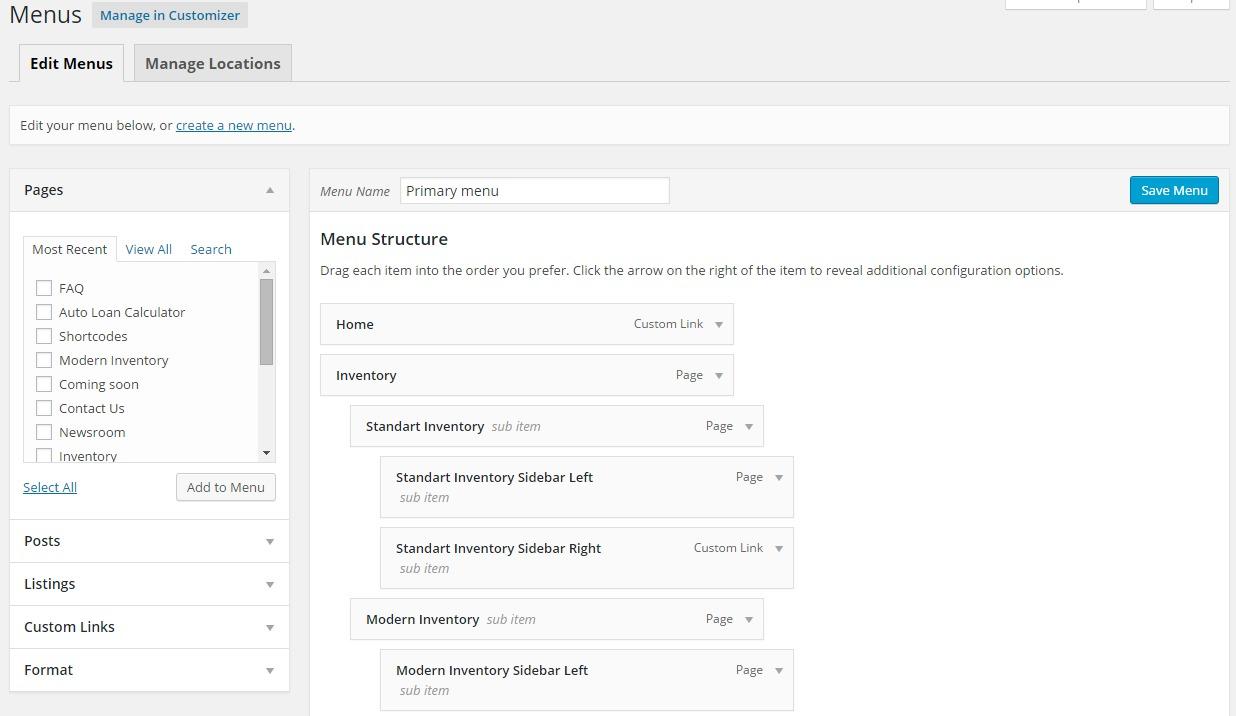 Widgets
Demo Content doesn't contain WP Options and Widgets, so you need to insert them manually via Appearance -> Widgets. Here are a few examples how to do this: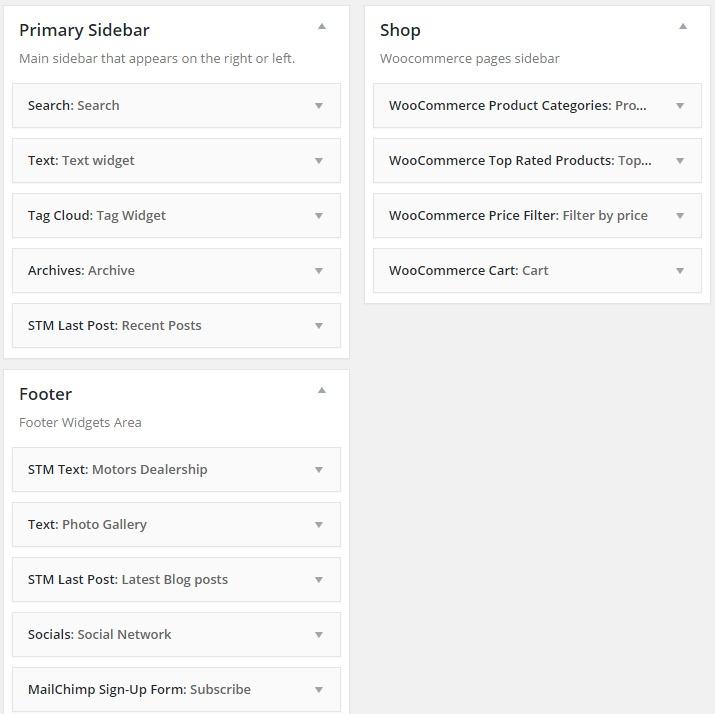 For example, in order to add Photo Gallery, you need to install Instagram Feed plugin and set it up. Then you will be able to add its shortcode via standard Text widget.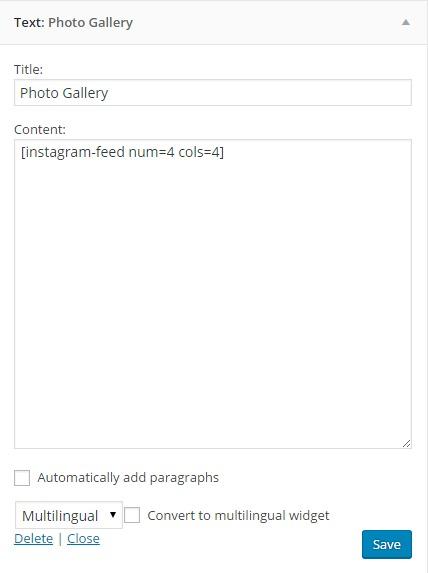 MailChimp Sign-Up Form also needs MailChimp for WP plugin to be installed and set its API up in order to work properly.