Masterstudy - Theme Customization, Localization, Setup Sidebars, Revolution Slider, and Menus.
Theme Options
WordPress Customize allows you to regulate the general settings of the website. In WordPress menu go to Appearance > Customize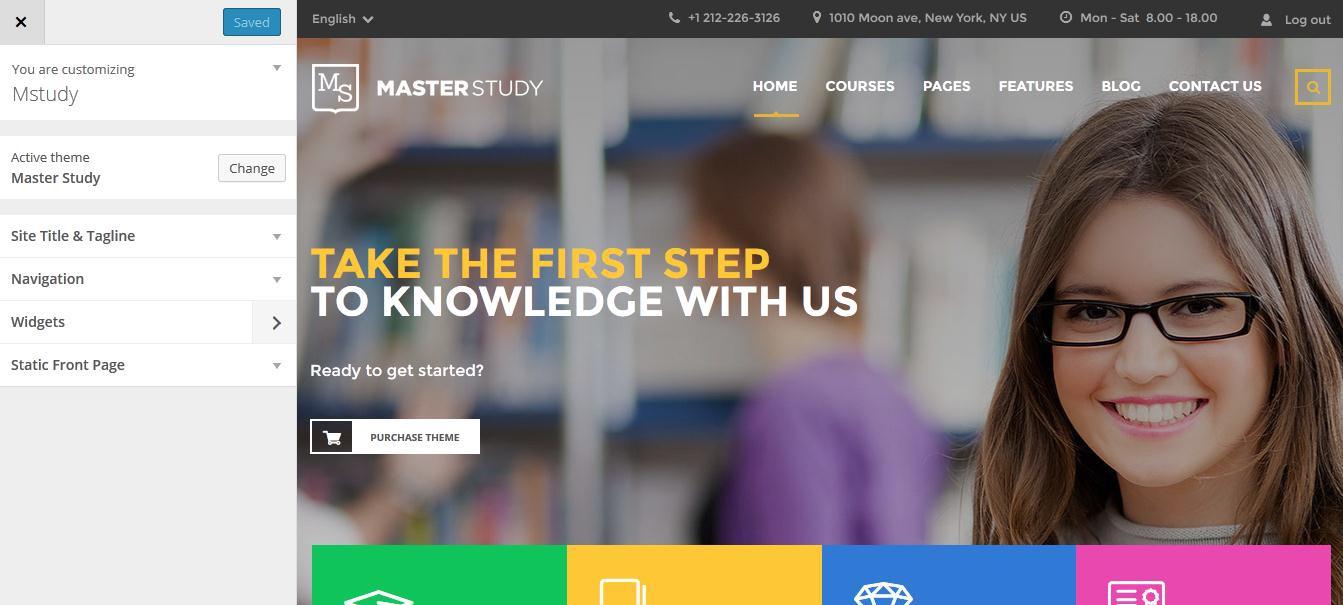 Site title & tagline: That's pretty obvious, you can name your site here.
Navigation: You can choose the menu to display in the top from precreated sets in wp-menu
Widgets: You can set up the widgets into the precreated areas. You can do the same later Appearance > Widgets
Static Front Page: Choose the Homepage and the Blog from the list of created Pages to assign their functions. You can do the same later under Settings > Reading
Redux Framework: For additional theme settings we use Redux framework. So all general settings can be setup after clicking on Theme Options in WordPress Panel: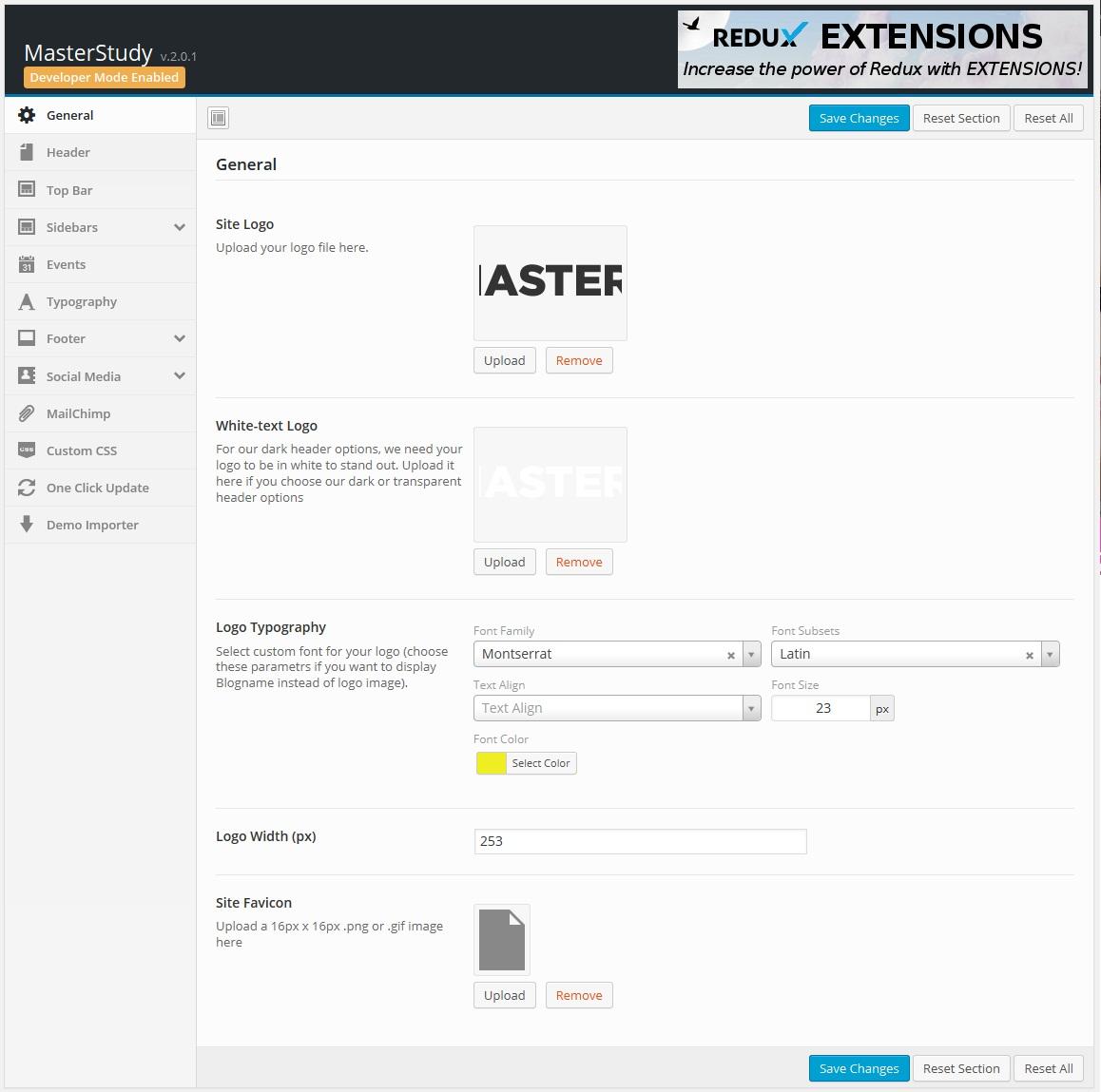 Using Redux framework you can easily change:
Logo
Favicon
Header area
Typography
Setup sidebars for Custom Post types
Social media profiles
Mailchimp subscription
Footer area
Demo Content upload
How to set up the sidebar
In this theme we paid special attention to Sidebars for your biggest convenience and on multiple previous requests.
We have two types of sidebar: right sidebar and left sidebar, which can be selected for both of archive and single posts/pages.
In addition to that, you can add/create a new sidebar with VC Widgets/Elements, in this case you will need to go here:

Edit or create a new sidebar, and add any sections you need by means of Visual Composer
For archive pages you can set sidebar options up via Appearance -> Customize -> Layout
For single pages/posts you can add sidebar via Widgetised Sidebar or STM Sidebar VC element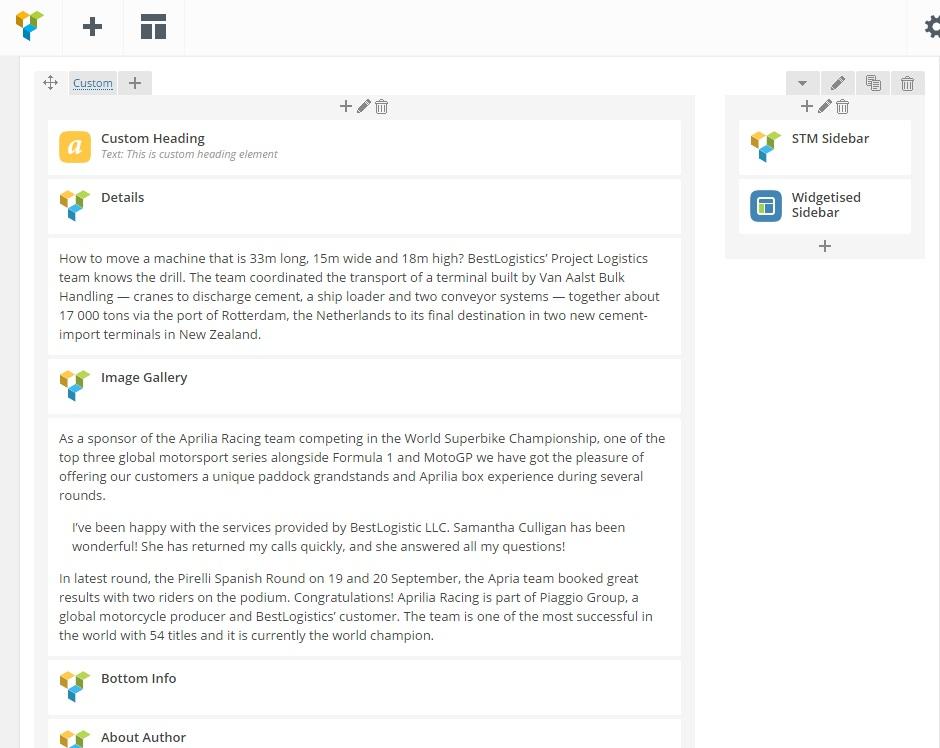 Adding Images to Revolution slider
You will need to upload various images to the Layer slider. You can add items from Revolution Slider plugin in the WordPress backend. When you go there first you need to create the new Slider, and add new slides.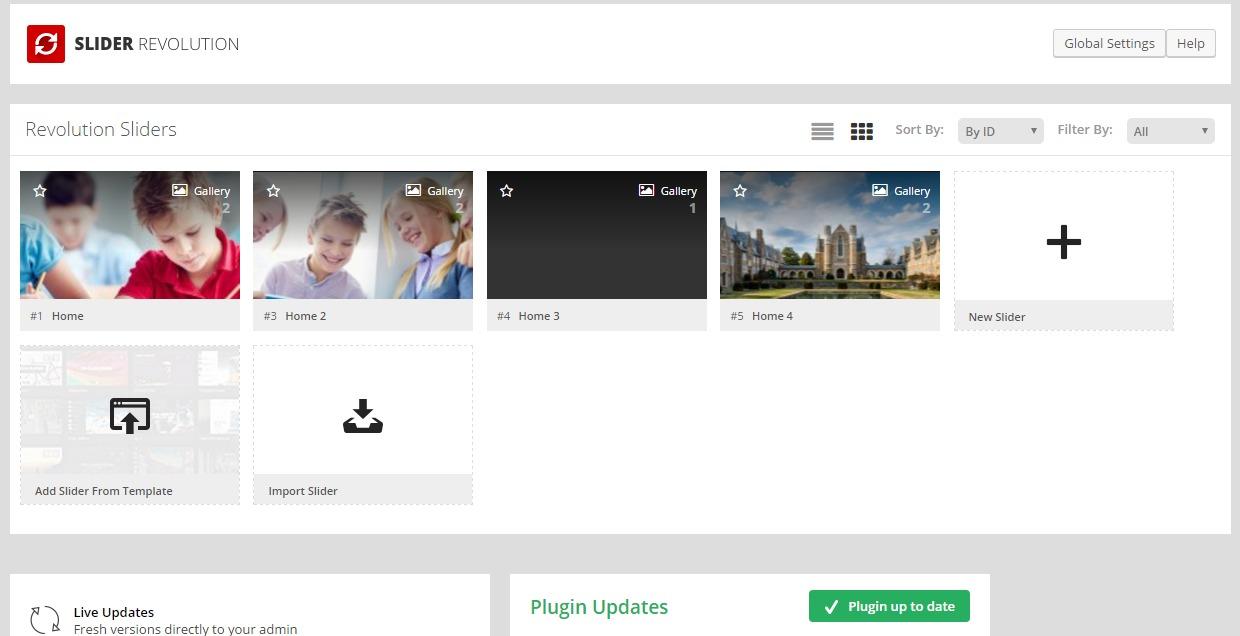 More detailed manual you can find here - http://www.themepunch.com/revslider-doc/slider-revolution-documentation/.
Menus
There are two navigations on the site – Header menu and Footer menu, so you can adjust them under Appearance -> Menus
This is standard Wordpress functionality, you can choose from the pages, post categories, or custom links.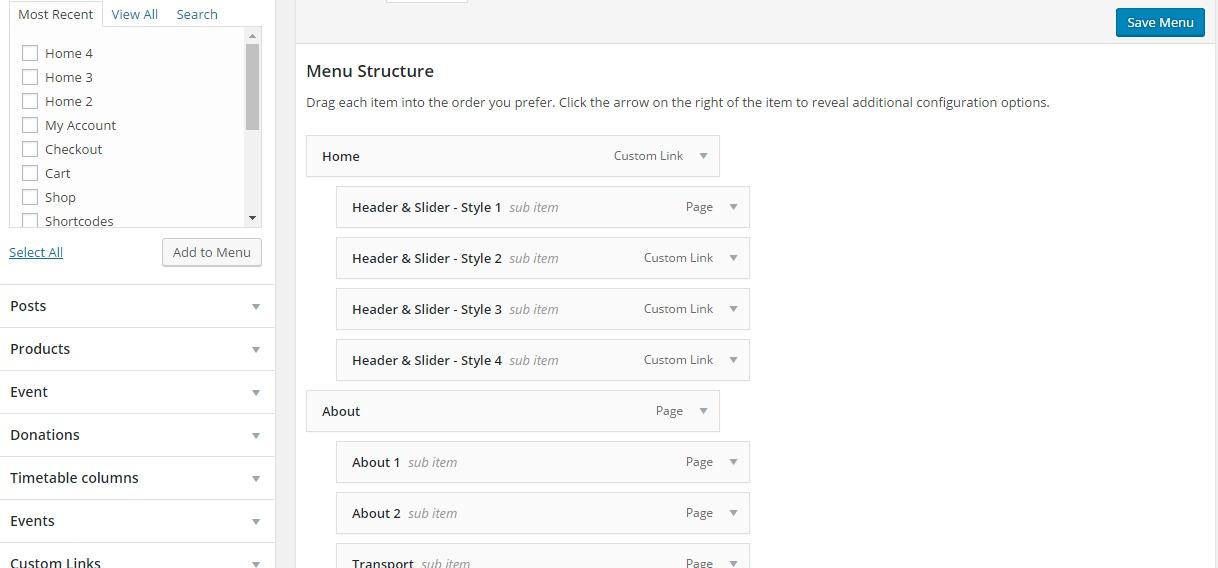 Localization
You can change your site main language via Settings -> General -> Site Language.
It's easy to localize your site using Loco Translate plugin. Here you can see related tutorial - https://localise.biz/help/wordpress/translate-plugin/beginners.
Another way is to add your translations via creating your own .po files. Before adding translations for static strings it needs to rename language files correctly according your site languages. Theme language files are located in a ../wp-content/themes/theme-folder/languages/ folder. You can find a list of language codes at WordPress in your Language. As an example, the language code for English is en_EN, so you would save the translated files as en_EN.po first, then en_EN.mo.
There are several ways to fill up translations. One of them if using PoEdit platform. You can add translation via editing your .po file and at the end PoEdit generates .mo file for you. Then you needs to upload ready translation files to primordial folder (../wp-content/themes/theme-folder/languages/).