Dent-All - Content Managment detailed instructions.
Setting up Content Pages and Posts
All pages can be created as simple content pages or built by means of Visual Composer page builder. You will need to first set up the page and then add and set up content blocks. Just add a row and add the modules to row from the Visual Composer dashboard.
Now you can choose how to compose your template. Add Content modules, Testimonials, etc. You have everything to realize your imagination.
We have also included extension packages for Visual Composer. You can use them free.
Just pick the module you like and add it to the row. Then you can edit it.
You can also edit the row background, add video or parallax images to the background. Just click on Row edit icon and you will see the options & features, which are available for this row.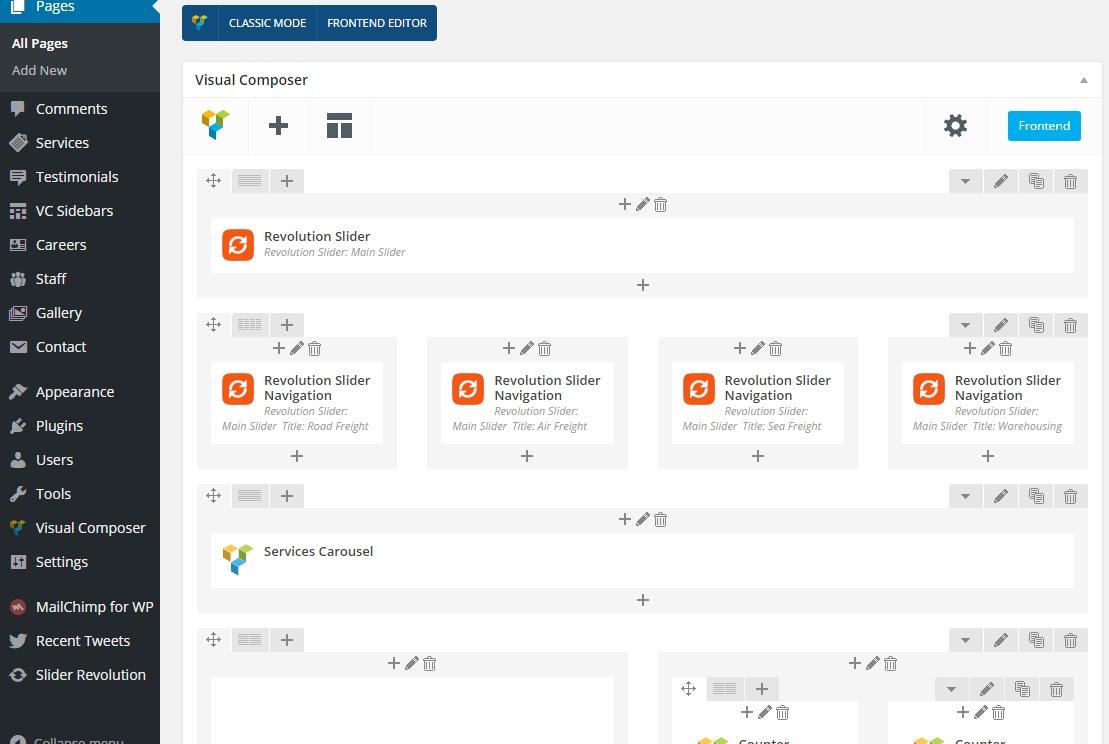 Custom added shortcodes in our theme are on a separate tab: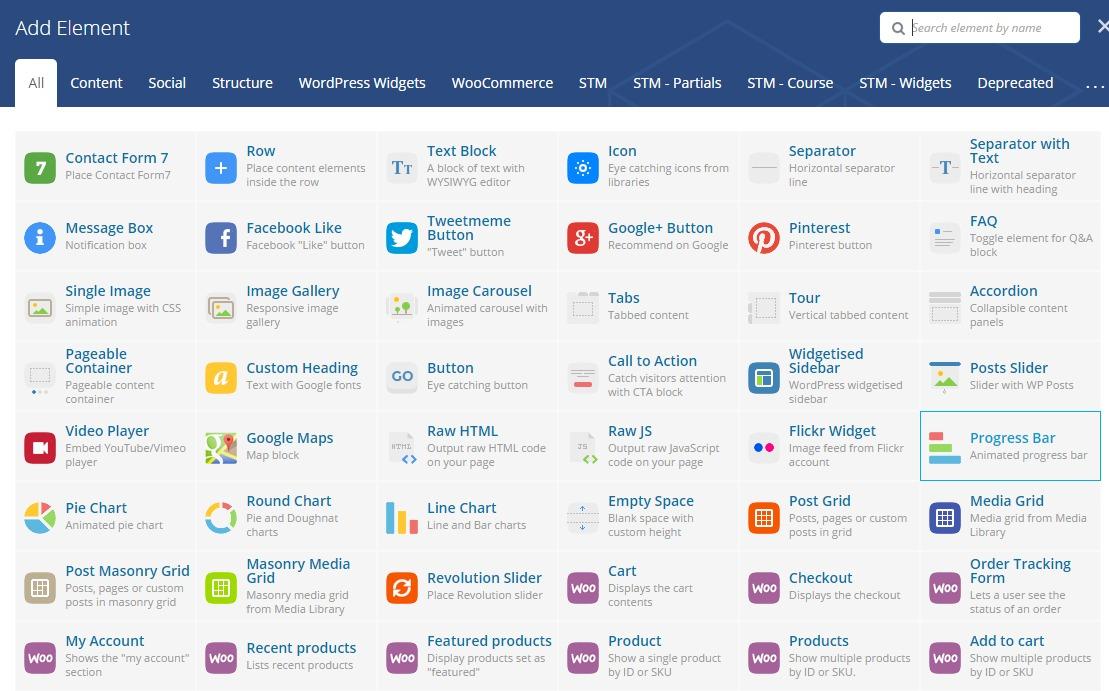 Besides this, each page contains these options which include header color or background image, title fonts and colors, breadcrumbs and button settings: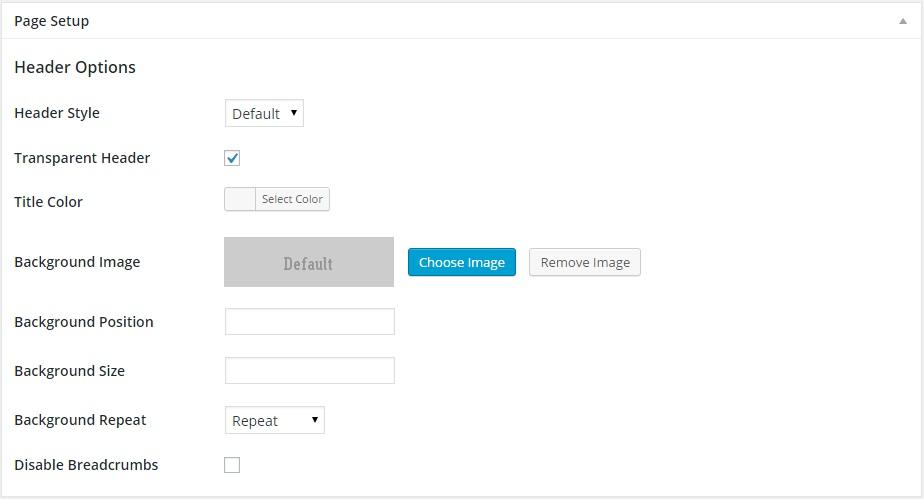 Blog page
The Blog page is a usual blog, formed from the posts which belong to categories created by you, which have tags and featured images that show in the post listings on the blog page. The blog page can have the sidebar on the left, right or no sidebar, and the contents of the sidebar, as described above, are set under the Appearance > Widgets. Blogs can be posted by someone who has the access to the backend of the site with admin or author role. Anyway that person will be able to log into the WordPress panel and have a user profile.
Default blog layout is grid layout and once you set up an empty page in the theme setting where it is said blog, it will show posts in grid layout.
Gallery
Galleries are created as a standard page using Image Carousel shortcode in Visual Composer. Here you create just single gallery photo.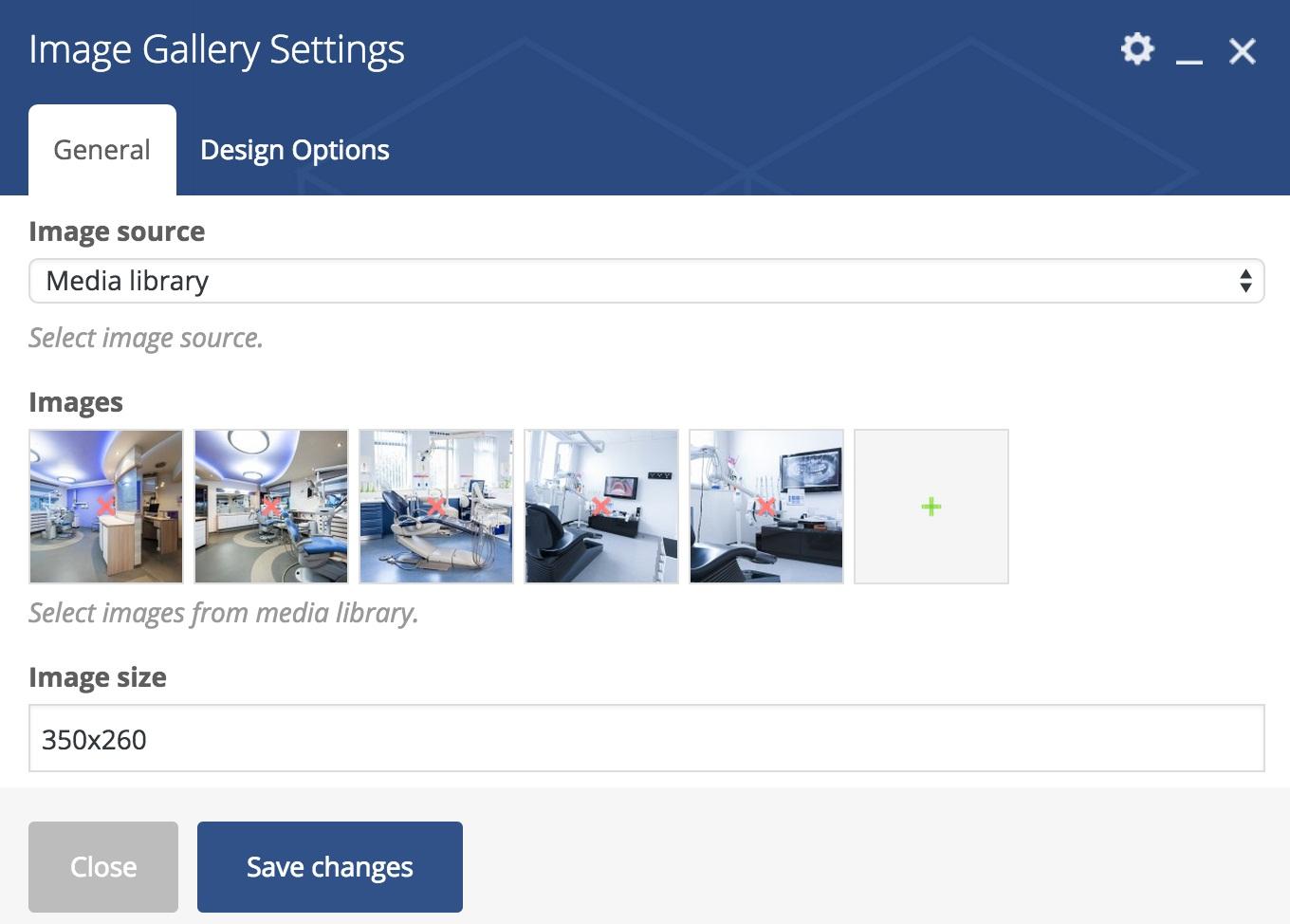 Services & Prices
In this theme we have Services pages and Service Prices. To add a Service Price go Service Prices and add new: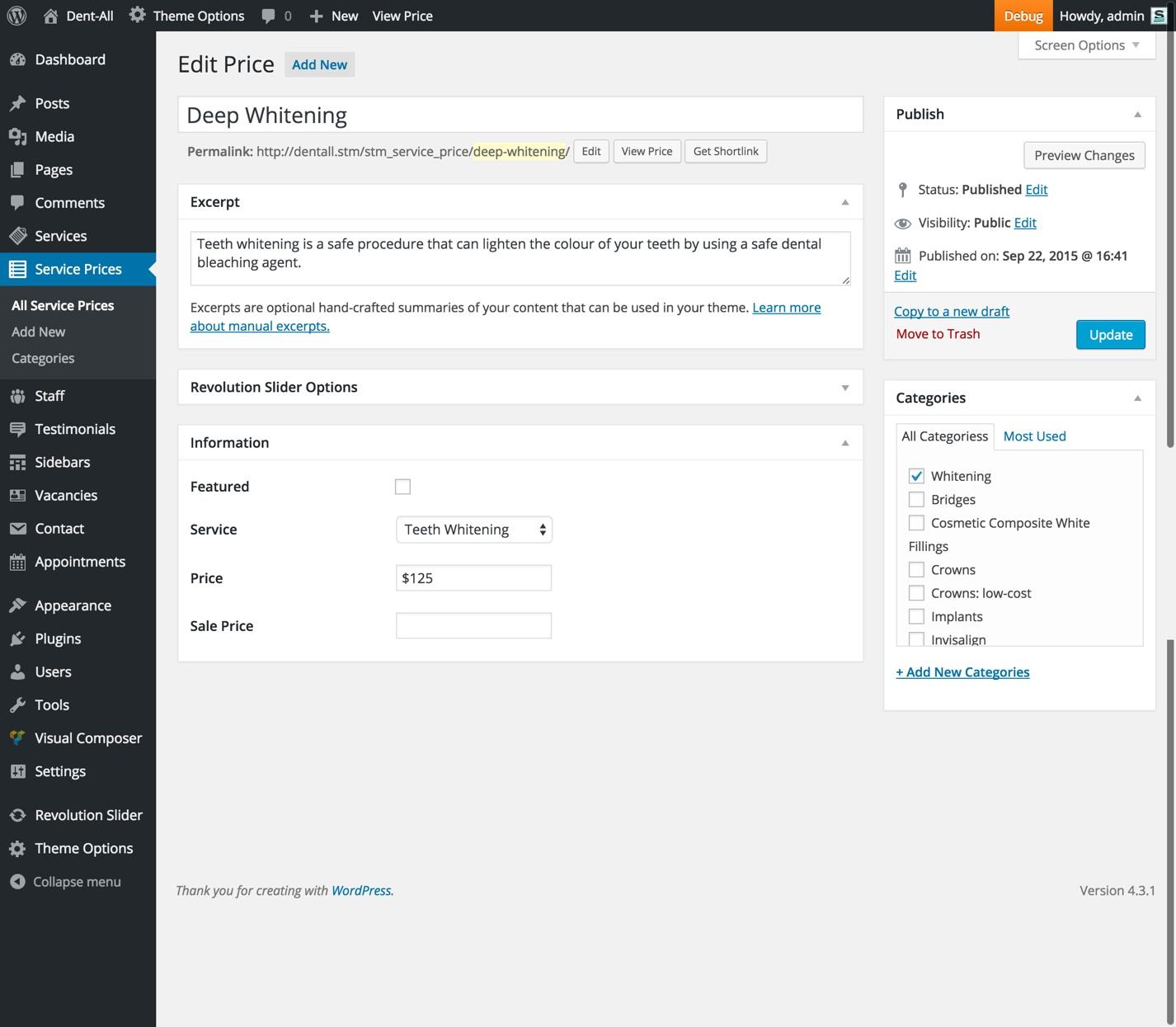 If you mark the Service Price as Featured – it will be displayed on the homepage Pricelist – Services Tabs. While adding a Service Price please associate it with the Post Category on the right hand side.
For the Service you need to create a Service page to associate the Price with the Service. Go to Services: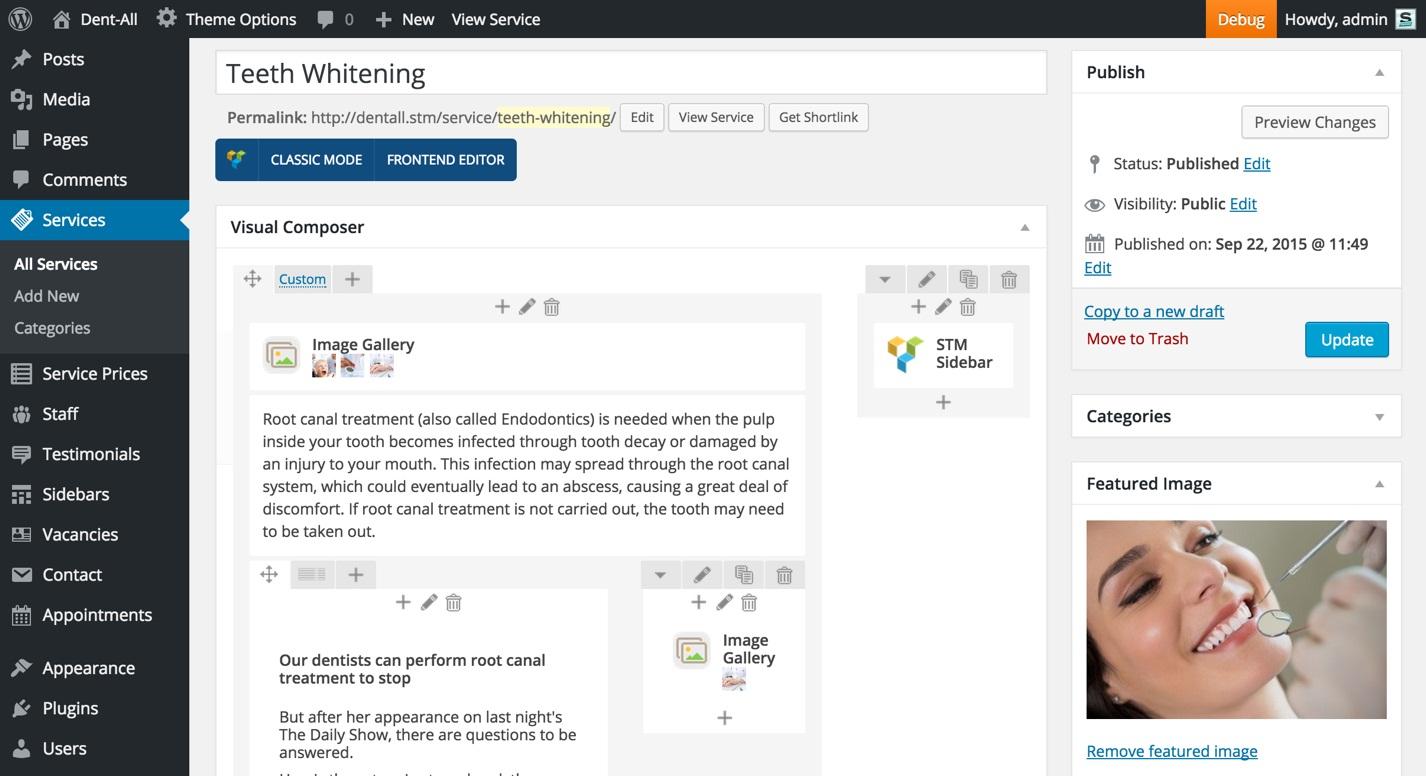 For each Service you can specify the Category, Featured Image, Service name and Description. For the Description we use standard Content area with Visual Composer, where you can insert ny shortcode you would like to display.
Moreover, you have additional page options to add Excerpt and Service Icon: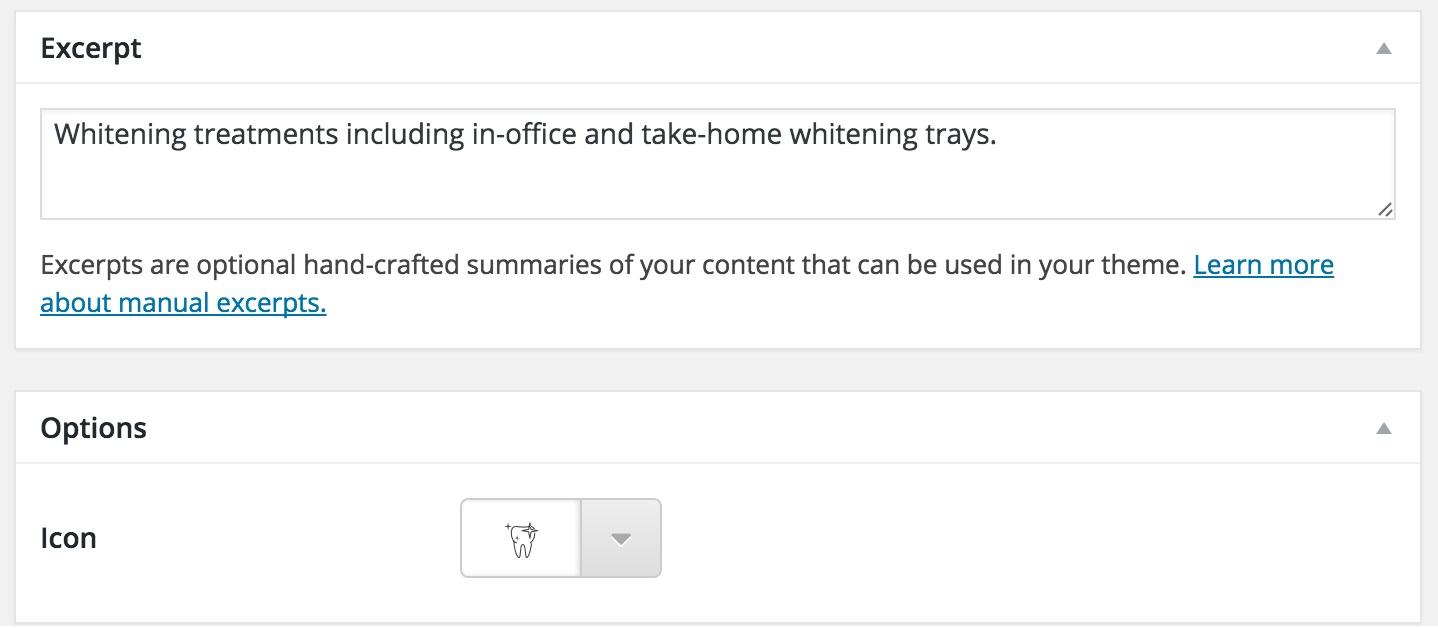 Once the Service page is created, you can merge the Service price with the Service itself.
There are also additional fields for regular price and discounted price.
Once the Service price is added. You can display it on the Service page using a STM shortcode in Visual Composer: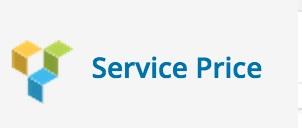 After you add it in the content area, please choose the required settings: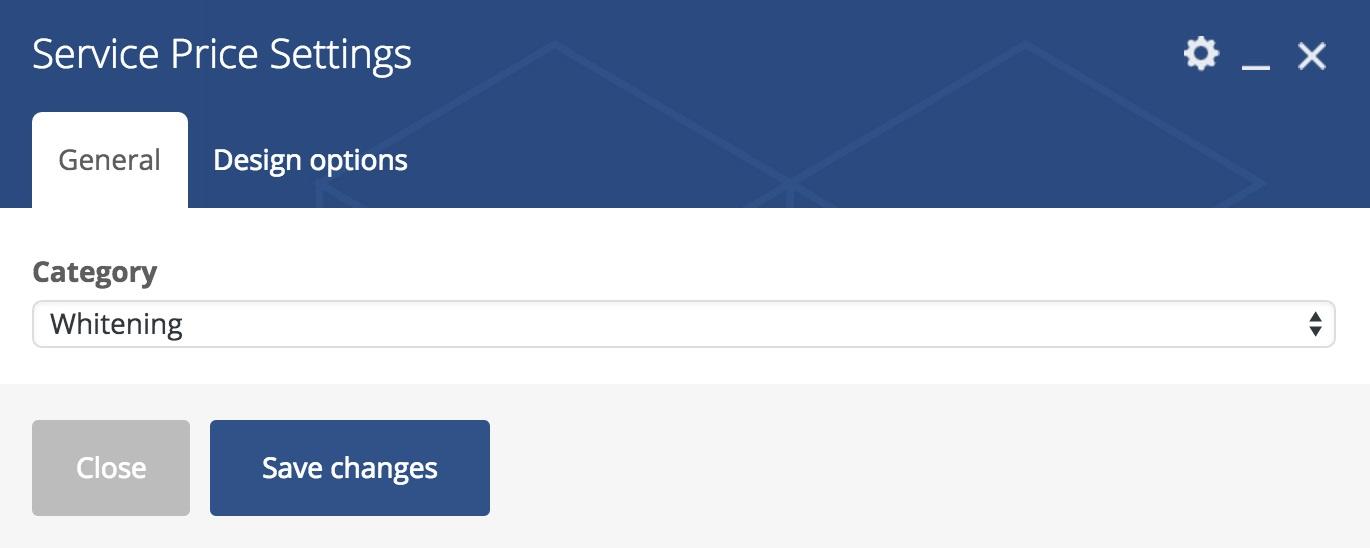 Appointment settings
For the appointment feature we use the plugin Booked – Appointment Booking for WordPress. First of all, you should setup the plugin settings. You should go to Appontments > Settings.
The important tab is Default Time Slots. This is where you should specify the available days and time slots for reservation.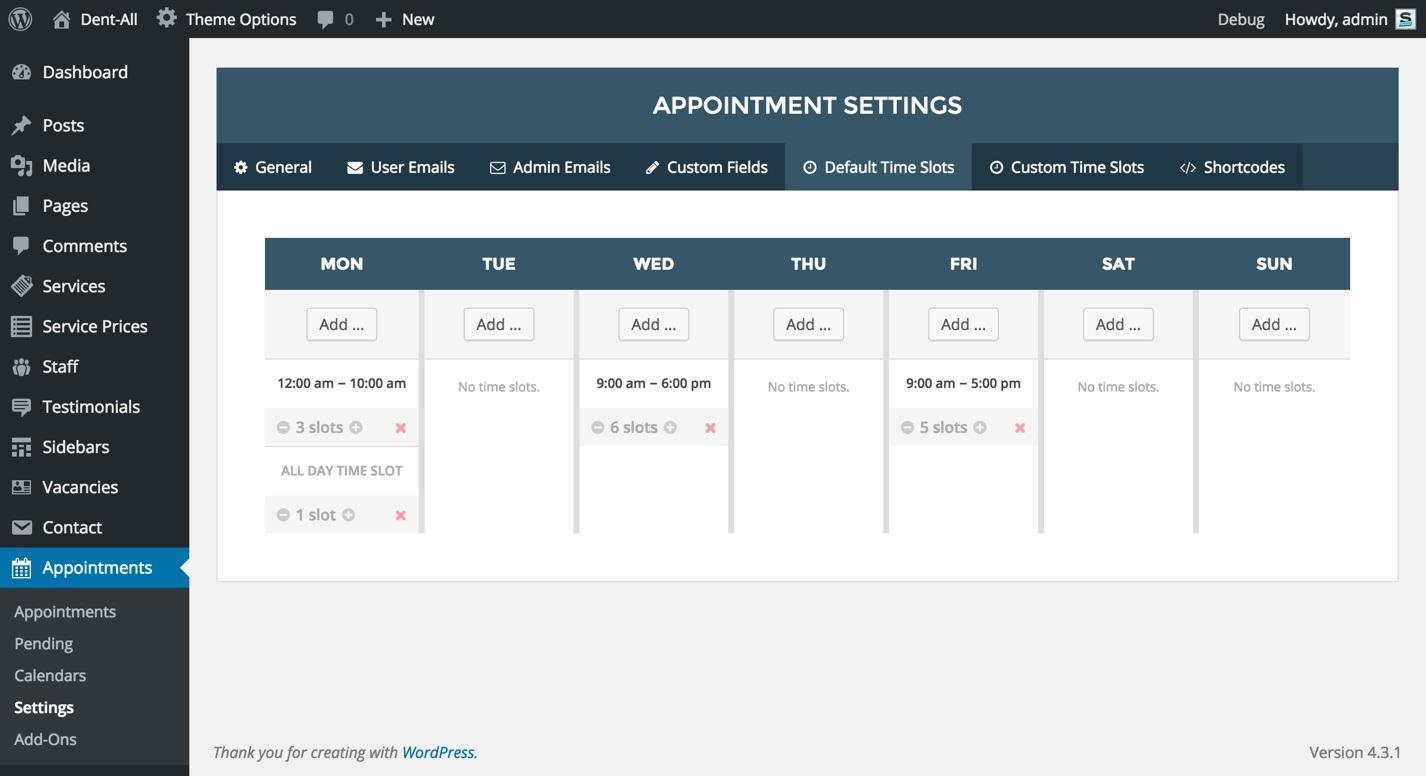 Once the Appointment module is ready to integrate, please add it as a shortcode on any page you want.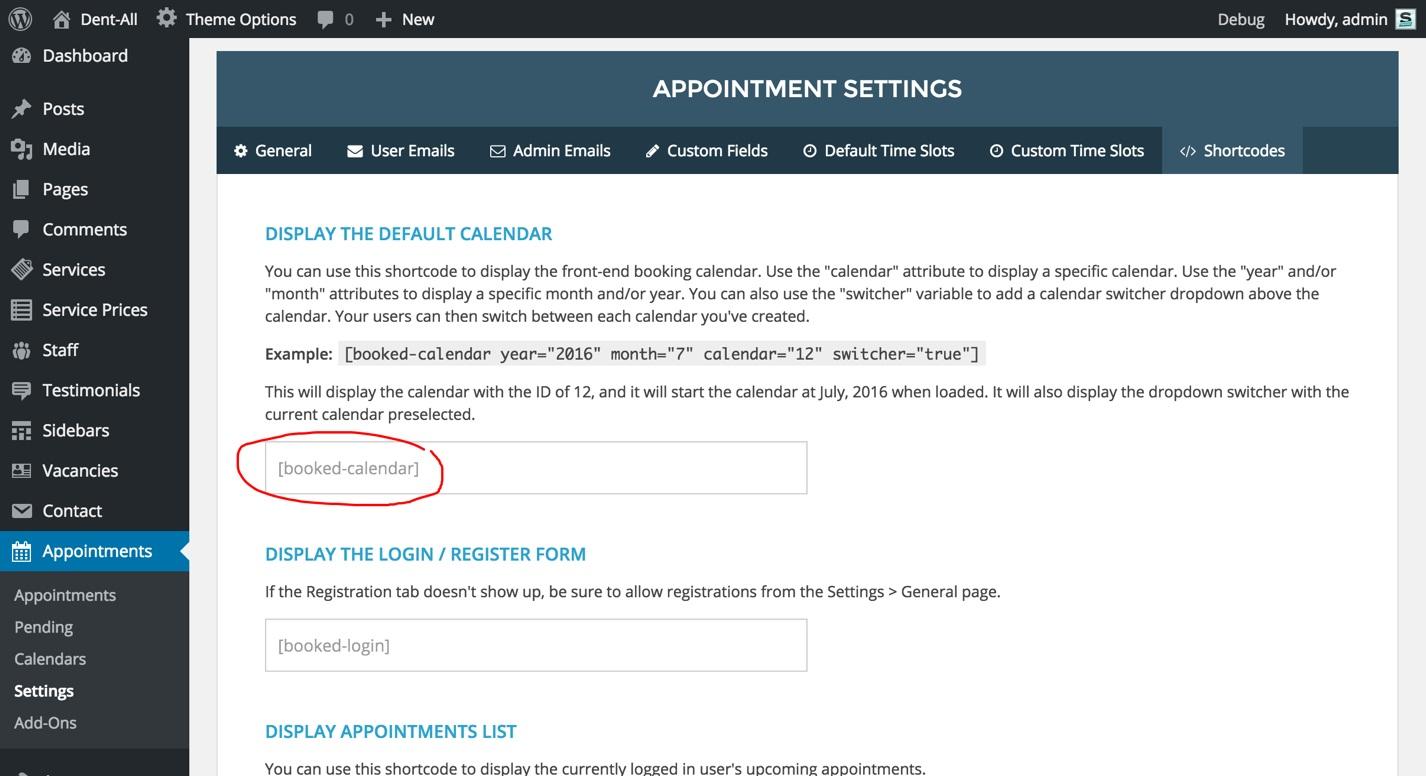 Once you get the new appointment request, you can see it under Pending. All requests have the customer s contact information. Once the appointment is approved you can go to Appointments and see coming appointments under each date: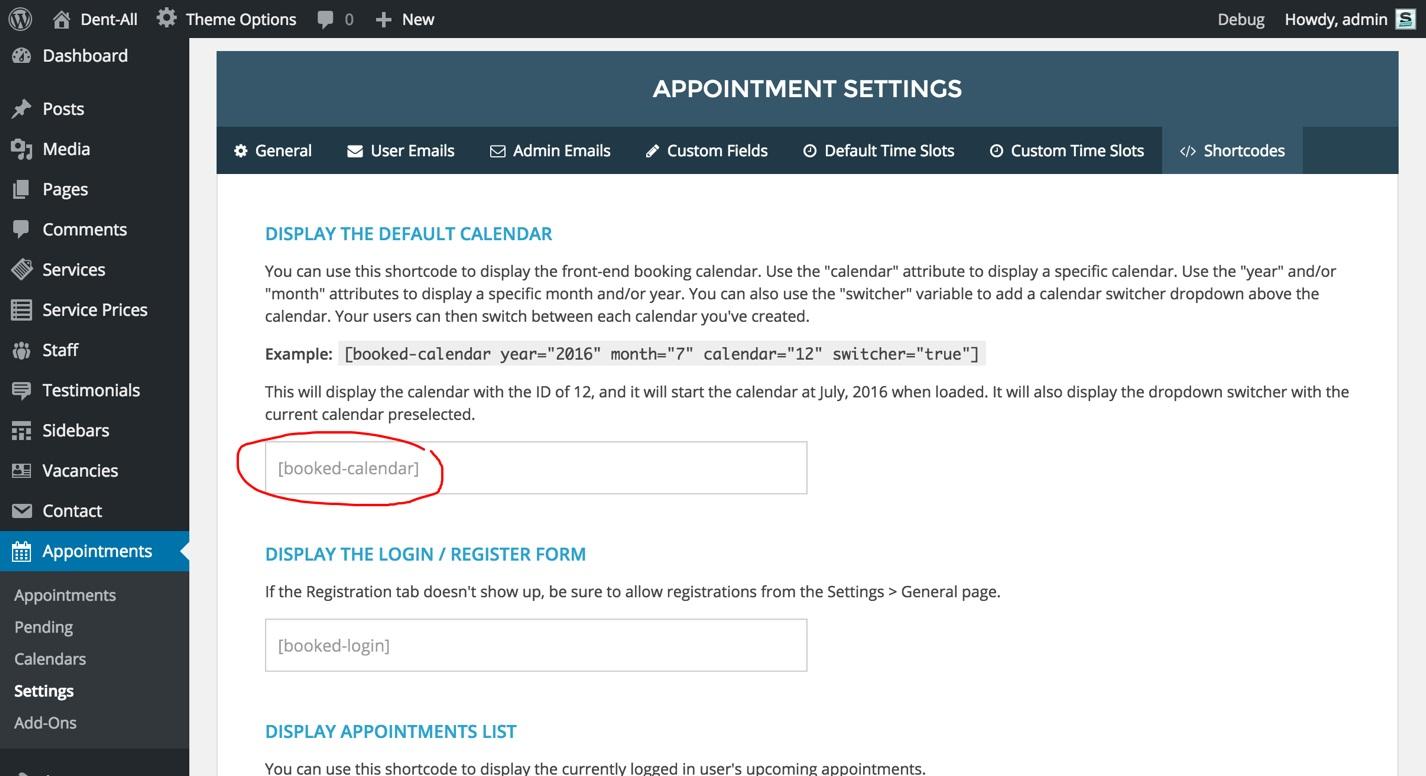 You can also add a New Appointment manually, if you got the client not from a website.
Testimonials
In order that you could create testimonials in one place and then use all over the site, just inserting a VC element, we have created custom posts.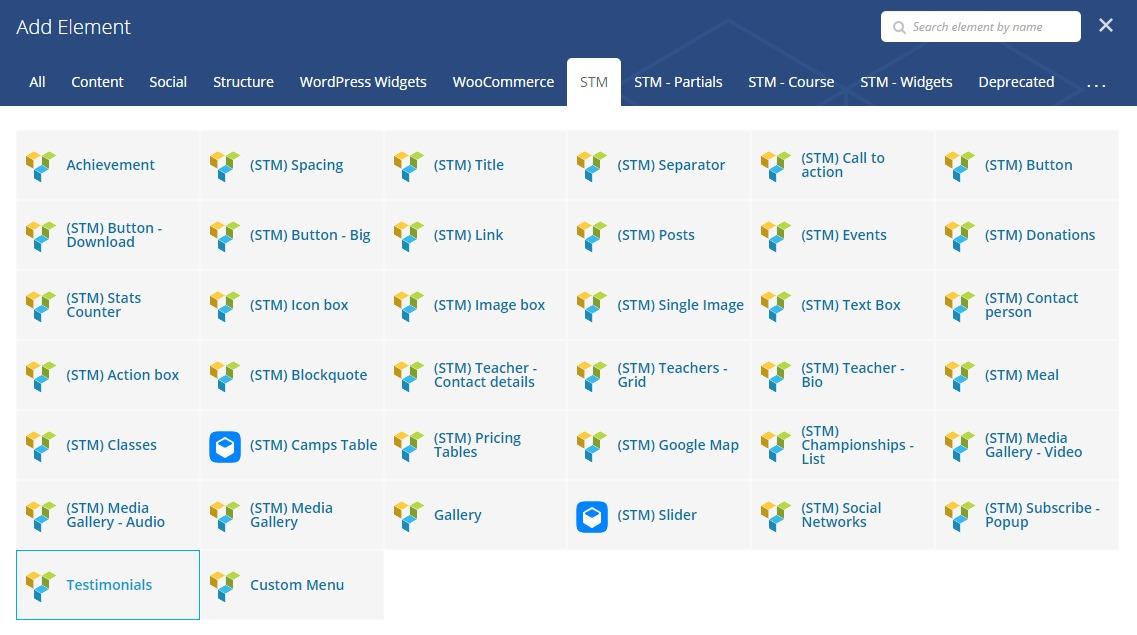 Each testimonial is a simple post: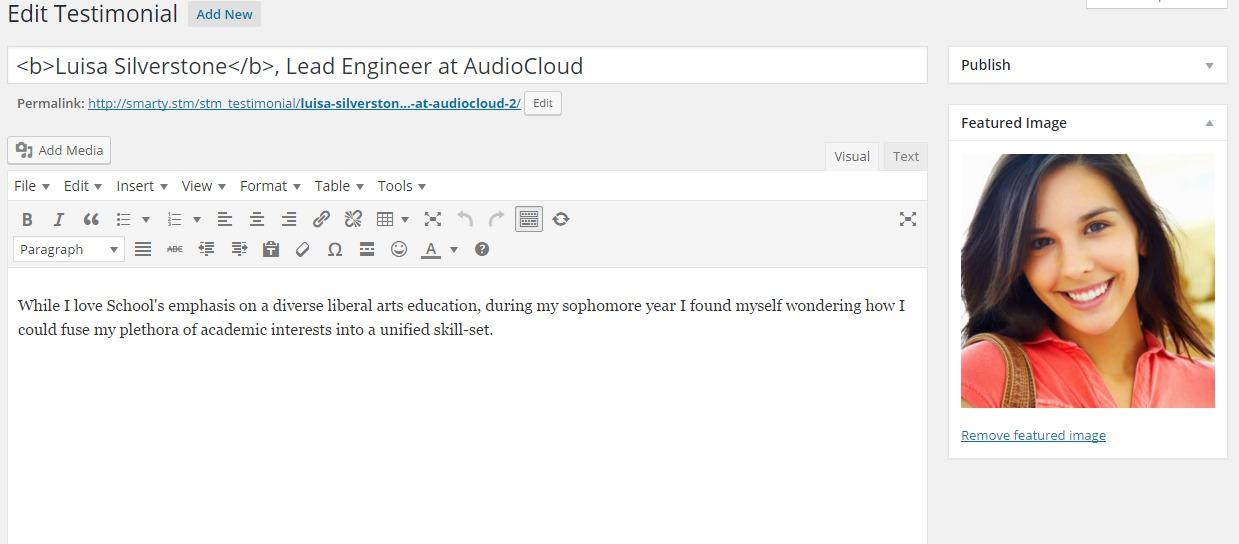 Staff
To add the Staff member just go to Staff custom posts in WordPress left sidebar navigation. Choose Add New and add the member description with photo.
You can also add member position, email, facebook & twitter profiles.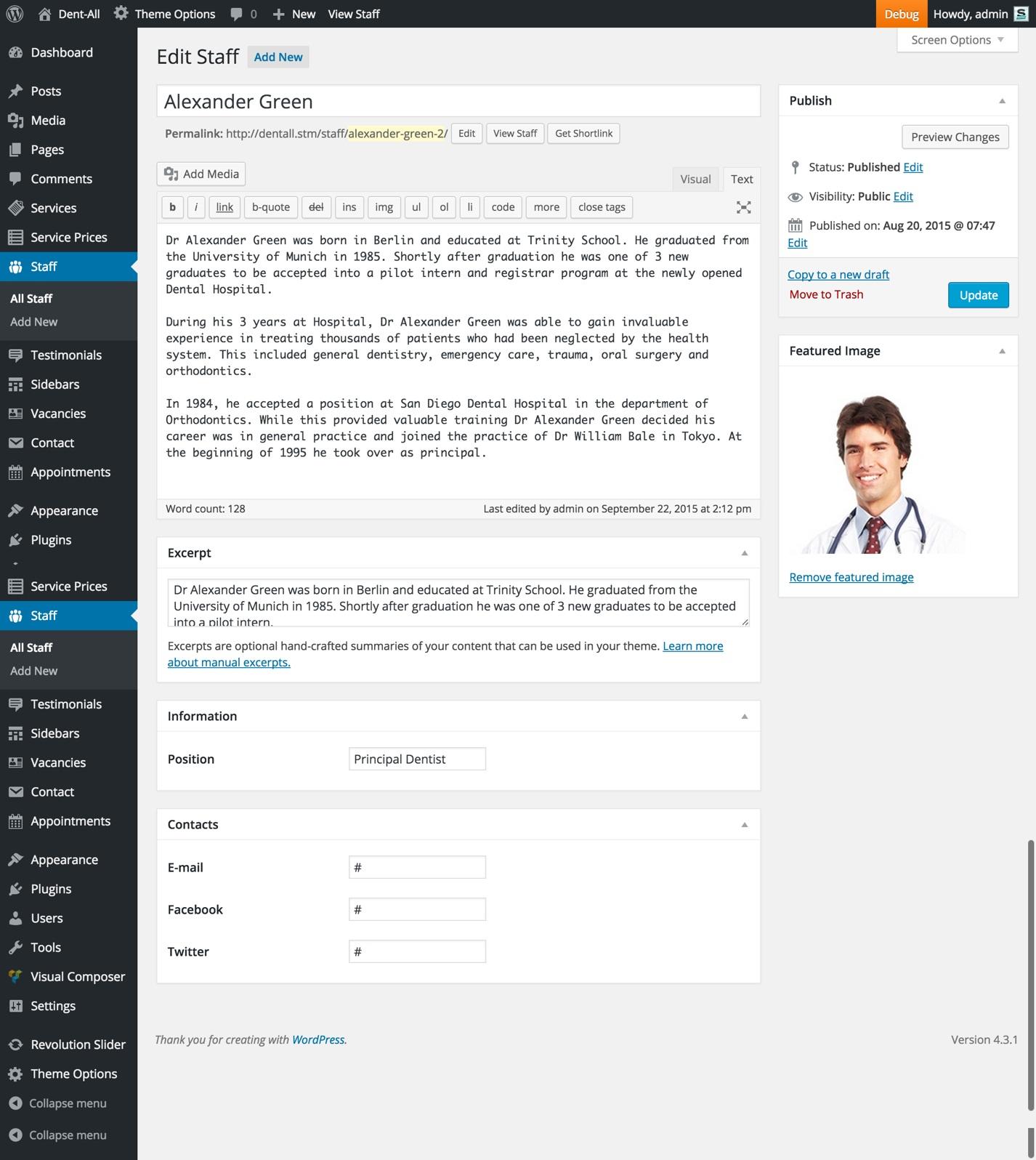 Vacancies
Adding the Vacancy you have standard Vacancy position title, description. Description can be added via Visual Composer. There are also additional Options like Location and Department.
Once the Vacancy is published, it can be added on any page via Visual Composer STM shortcode – Vacancies.